Audi's First RS Electric Car Is Essentially A Porsche Taycan Underneath The Skin
---
… but that's not necessarily a bad thing considering just how amazing the Taycan already is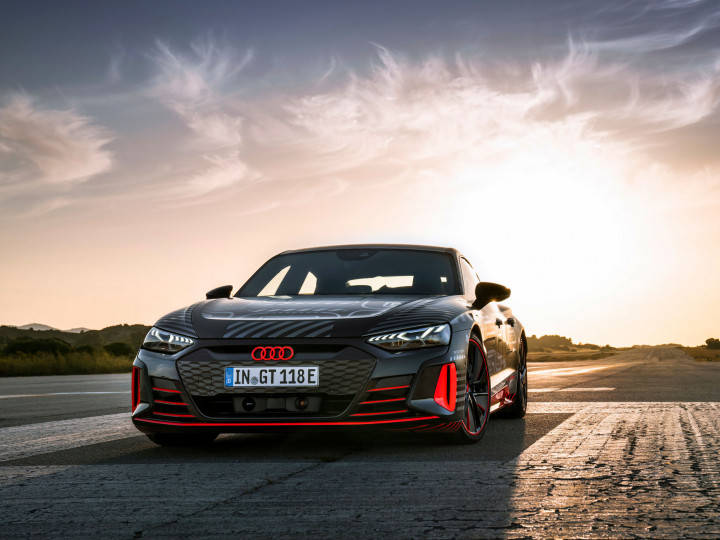 Audi has teased its third electric model, the e-tron GT, ahead of its global debut. It is a svelte 'grand tourer' with electric propulsion. But what enthusiasts and keen Audi fans will love to know is the fact that this is the first all-electric Audi to bear the iconic RS badge.

First things first, the RS e-tron GT is essentially a Porsche Taycan underneath, with Audi's clothing all over. The design is more of straight lines and creases rather than flamboyant curves. There is a hint of the RS7 Sportback in its silhouette, but this all-electric Audi gets its own unique design elements such as the closed front grille and aerodynamic alloy wheels. As with all Audis, we love their bizarre lighting tech: both the headlamps and tail lamps do a dance while locking and unlocking the car.

The RS e-tron GT's interior is yet to be seen, but as with all Audis, it should come with a touchscreen-laden cabin. Audi's virtual cockpit should make its presence felt while the RS models will come with sports seats with additional bolsters to hold you in place while you're pushing hard.

The RS e-tron GT is propelled by twin electric motors churning out an eye watering 684PS and 830Nm right from the word go! Audi claims the RS e-tron GT does 0-100kmph in 3.5 seconds, which is supercar territory. In comparison, the 600PS V8-powered Audi RS7 is 0.1 second slower. You'll also be happy to know that the RS e-tron GT comes with a 93kWh battery pack that should offer a decent range.

Surprisingly though, the RS e-tron GT drives only its rear wheels and shys away from Audi's famed quattro all-wheel drive system. A more powerful triple-motor setup with all-wheel drive layout is on the cards though. There will also be a more balanced standard e-tron if you don't want maniac performance.
Other notable bits for a rewarding driving experience include 3-chamber air suspension and all-wheel steering. You can also opt for carbon ceramic discs for better stopping power.

The RS e-tron GT is likely to make its international debut before 2020 ends. Audi's first RS electric model could be on the cards for India considering the Ingolstadt carmaker's extensive portfolio revamp in the country. But that can be determined as time goes by. Fingers crossed!