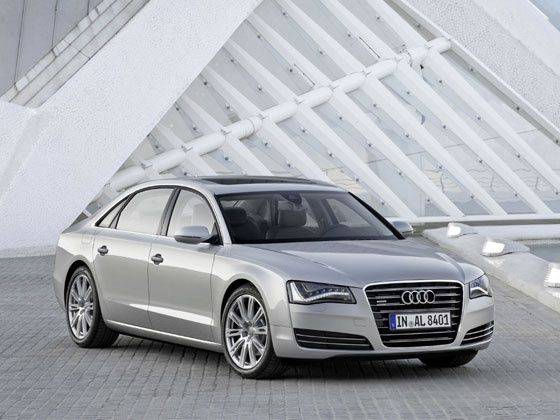 German luxury car maker Audi has announced a price hike of Rs 59,000 or one per cent for the Q7 3.0 TDI to Rs 3,69,000 or five per cent for the S4 (ex-showroom Delhi) in India effective January 2013.
Many car makers have announced price hikes across their model range due to inflation and rise in input costs and Audi has followed suit.
Audi has fared well in the Indian car market and surpassed its annual sales target of 8,000 units by selling 805 units in November 2012 alone, having posed stiff competition to Indian luxury car market leader BMW.
The revised prices are as follows: Audi A6 2.0 TDI will cost Rs 40,86,000 (up 2.5 per cent), Audi A8 L 3.0 TDI q Rs 91,29,000 (up 2.5 per cent), Audi Q3 2.0 TDI q Rs 27,90,000 (up 2.5 per cent), Audi Q7 3.0 TDI q: Rs 58,84,000 (up one per cent), Audi S4 3.0 TFSI q Rs 48,49,000 (up five per cent), all prices ex-showroom Delhi.
"As we have stated earlier, the overall market scenario is challenging. The rise in input cost, depreciating rupee as well as continuous increase in fuel prices have made us re-evaluate our pricing strategy in India and increase the prices of our entire model range. However, we are offering our customers customised and innovative finance options from Audi Finance which will make their purchase more attractive." said Michael Perschke, Head, Audi India.
The company has opened showrooms in Raipur, Kanpur, Goa, Navi Mumbai, Coimbatore, Delhi West, Nagpur, Bhopal, the new terminal in Ahmedabad being the most recent in 2012, bringing its total number of dealerships to 24. Audi has recorded a 58 per cent growth on a Year-To-Date basis with 8,072 units sold from January to November 2012 in comparison to 5,117 units sold between January and November 2011.
The Audi model range in India includes the new A4, A6, A7 Sportback, A8L, Q3, Q5, Q7, S4, RS5 Coupe, TT Coupe and the R8 and R8 Spyder supercars.
Also read: 2013 Audi R8 V10: First Drive