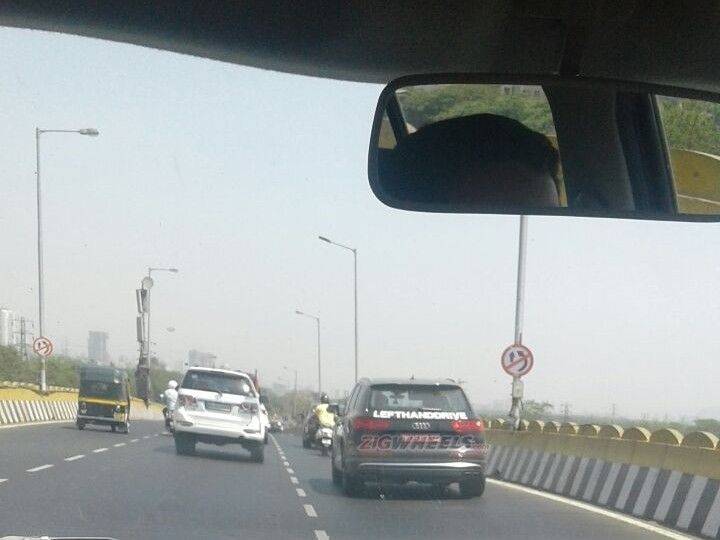 Audi kicked off 2017 by launching the topless avatar of its most affordable offering in India - the A3. Now, though, the German automaker is gearing up for the big and burly SQ7.
Recommended Read: 2017 Audi A3 Cabriolet Launched
The hotter version of Audi's flagship SUV was spotted testing in Mumbai. The test mule is a left-hand drive version which is possibly testing for performance on low quality diesel. A quick look at the import-export data tells us Audi India has imported not one, but two Audi SQ7s for 'testing purposes', from Slovakia.
What's so special about the SQ7?
The engine. A 4.0-litre, tri-turbo setup dishes out a mammoth 435PS of power and a mind-boggling 900Nm of torque. That's good enough to make the SQ7 scurry to 100kmph in 4.8 seconds and max out at 250kmph. To put those figures into perspective, that's nearly identical to the Porsche 718 Boxster / Cayman. A massive diesel seven-seater SUV can keep up with a nimble two-seater sports coupe. What a time to be alive!
Recommended Read: Porsche 718 Twins Launched!
When and how much?
Earlier, rumours suggested Audi would launch the SQ7 by Diwali last year. A few reports even hinted at Audi dropping the plans for the SQ7 for India. The test mule does fuel rumours of a possible launch, and we wouldn't rule it out entirely either. We can expect the SQ7 in a couple of months, with a price tag that is north of the Rs 1 crore mark. That's quite a lot for a Q7, we know. But then, when was the last time you overtook a sportscar in a diesel SUV?
For a detailed look at the Audi SQ7, do check out our review of the behemoth.
Recommend Read: Audi SQ7 - First Drive Review