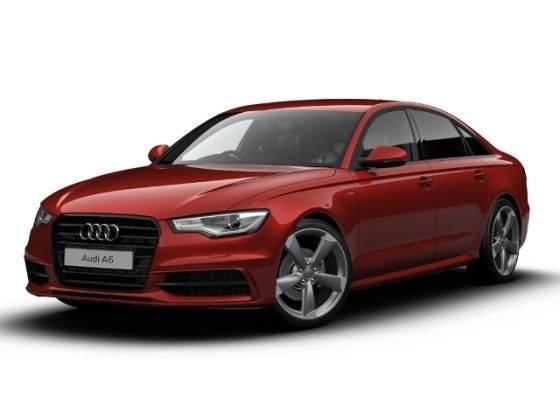 Audi has introduced Black Edition models of its A6 sedan and the A7 Sportback sedan that are the same as their regular versions except for the black styling package.
The black styling package consists of rotor-design alloy wheels finished in dark titanium, black finish for the front grille and number plate surrounds, and the rear doors and rear quarter windows feature dark glasses. The A6 Avant Black Edition stationwagon also gets black roof rails.
The Audi A6 Black Edition gets the lowered suspension from the sporty S6 variant of the executive luxury sedan, while the A7 Black Edition gets a lowered S line sports suspension. The lowered ride height along with the 20-inch rims on the A6 and 21-inch rims on the A7 Sportback reduce space in the wheel arches to make the cars look sportier. In addition, the A6 Black Edition models feature more S line styling cues on the exteriors and interiors.
Inside, the Black Edition A6 and A7 get black leather seats along with black headlining, while piano black inlays complement the interior colour scheme. The Black Edition cars also get a Bose surround sound infotainment system along with DAB digital radio and the Audi Music Interface for iPod connection.
The A7 gets a Bose surround sound system too, the DAB digital radio and AMI are standard on the A7. Other extras include powered tailgate operation, electrically adjustable front seats and a powered retractable rear spoiler.
The Audi A6 Black Edition is available as front-wheel drive and all-wheel drive, while engine options range from the 2.0-litre TDI onwards with the exception of the S6 model. The A7 range Black Edition models include all variants barring the front-wheel drive 3.0-litre TDI and S7 models.
The Audi A6 Black Editions prices range from Rs 30.58 lakh to Rs 42.96 lakh, the Audi A6 Avant Black Editions are priced between Rs 32.29 lakh and Rs 44.57 lakh, while the Audi A7 Black Editions range from Rs 44.14 lakh to Rs 49.57 lakh.
*All prices are for UK models.
Slideshow: