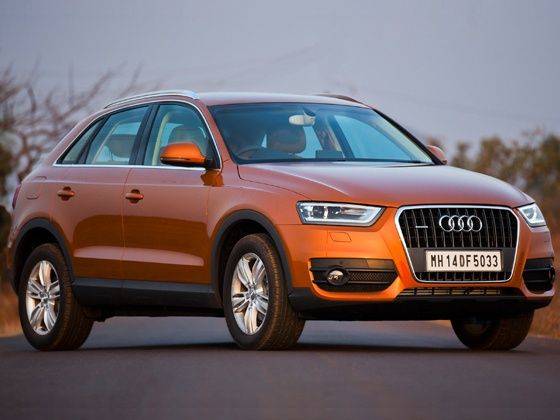 In 2012, Audi India luxury car market leader BMW head on with its expanded dealer network and its entry level Q3 luxury SUV registered 500 bookings within five days of launch. It now has 24 showrooms across 21 cities, with new showrooms set up in Raipur, Kanpur, Goa, Navi Mumbai, Coimbatore, Delhi West, Nagpur, Bhopal and Ahmedabad.
Audi India achieved its 2012 sales target of 8,000 units in November itself and the revised target of 8,600 units. was surpassed with 931 units sold in December 2012 compared to 394 in the corresponding period in 2011, a staggering 136 per cent rise on a Y-O-Y basis.
The company sold 9,003 vehicles in 2012 compared to 5,511 in 2011, a 63 per cent growth on a Year-On-Year basis.
New models and variants introduced in 2012 included the TT, A4, S4, Q3 and the A8L 4.2 TDI. The Q3 SUV, and A4/A6 luxury sedans contributed significantly to the record sales.
"This year we expanded our horizon in marketing and ventured into new areas with music video, strong brand channels, booking parties at our showrooms and big-scale customer drive events like Audi sportscar experience, Audi Women's Power Drive and R-Drive among others. This exercise helped us create a strong connect with the younger brand enthusiasts and reach out to a wider base of customers. The Q range has been a game changer for Audi in India and we had more and more people utilise the festive season in enrolling in the Q life by buying and gifting it," said Michael Perschke, Head, Audi India.
"We are presently the growth drivers of the luxury car market in India and I am confident that 2013 will be more rewarding than 2012, despite the price hike. We will look forward to further strengthening our growth pillars in 2013 and have plans to open new showrooms in Lucknow, Noida, Mumbai South and Vadodara among others," he added.
Audi currently sells 12 vehicles in India that include the A4, A6, A7 Sportback, A8L, Q3, Q5, Q7, S4, RS5 Coupe, TT Coupe, the R8 and R8 Spyder supercars across its dealerships in Ahmedabad, Bengaluru, Bhopal, Chandigarh, Chennai, Coimbatore, Delhi South, Delhi West, Goa, Gurgaon, Hyderabad, Indore, Jaipur, Kanpur, Kochi, Kolkata, Ludhiana, Mumbai West, Nagpur, Navi Mumbai, Pune, Raipur and Surat.
Also read: Audi to hike prices in January 2013