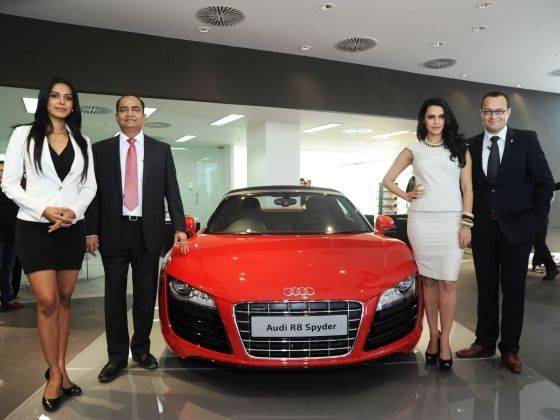 L-R : Natasha Suri, Samir Mistry, Michael Perschke, Neha Dhupia
After the opening of Deutsche Motoren, the largest showroom in Delhi/NCR by Bavarian car maker BMW, in Faridabad, Ingoldstat based manufacturer Audi has inaugurated its largest showroom in Ahmedabad, Gujarat. Spread over 22,000 sq ft, the new facility at Sola Road has a 12-car display, making it the largest in the state. "I am delighted to announce the opening of the biggest luxury car showroom in Ahmedabad. This city is a very strong market in Gujarat and in the western region for us. With this new showroom, we have once again raised the benchmark of distinction and portrayed the brand's commitment to unparalleled levels of which enabled us to achieve the leadership position in Gujarat," said Micheal Perschke, Head, Audi India. Audi Ahmedabad MD Samir Mistry, actress Neha Dhupia and Miss India World 2006 Natasha Suri were also present at the inauguration.

The new facility featuring unique Audi terminal architecture that with an aluminium façade, will also house an Audi Shop and Audi Exclusive dealing in customised products and purchase Audi merchandise. "Audi Ahmedabad and Audi Surat have catered to the demand for luxury cars in Gujarat for some time now. The opening of this bigger showroom in Ahmedabad underscores our customer centric approach and our constant endeavour to bring to the people of Ahmedabad Audi's sporty, progressive and sophisticated products. With world class showrooms in both Ahmedabad and Surat, we are confident of maintaining the leadership position in Gujarat," said Mistry.

The showroom located at Sarkhej, is spread over 18,000 sq ft, contains 12 bays and can service 24 vehicles in a single shift. The company has also inaugurated a new showroom in Surat, after recently opening facilities in Raipur and Kanpur. Audi now has 23 dealerships in India selling the A4, A6, A7 Sportback, A8L, Q3, Q5, Q7, S4, RS 5 Coupe, R8 and R8 Spyder.

The company has also registered strong growth with cumulative sales of 850 units in October this year compared to 482 units during the same period in 2011.
Also Read: BMW opens Deutsche Motoren Faridabad, its largest India dealership