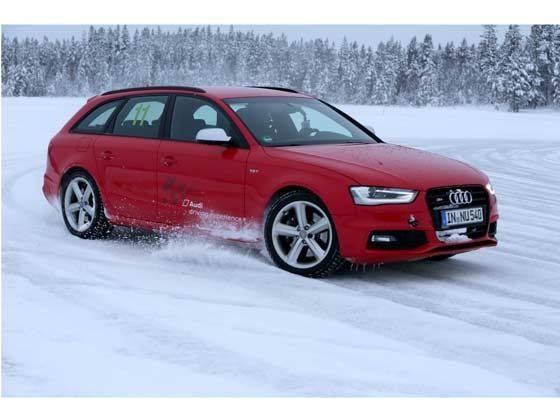 The thing which had me thinking as soon as we landed at Arvidsjaur, close to the Arctic Circle was whether in the blanket of white and some dark green bits peeking through we could get some colour and zest as we gathered to put ourselves through the paces of Audi's Ice Drive Experience. Many might question driving on ice and its relevance to our driving conditions so let's get that straight out of the way – last year we had over 144,000 deaths on our roads and quite a sizeable number could have been saved had they known better car control. Driving on ice is a great way to learn better car control while yet having fun exploring your limits and that of the car you are driving and this was the reason Audi India bundled a handful of motoring journos all the way to Sweden to experience ice and learn the art of car control using quattro drive.
What was of even more significance as we were given a crash course of driving theory by a team of experts (which also incidentally included Markus Winklehock, winner of the 2012 Nurburgring 24 Hours and son of the former F1 and sports car ace Manfred Winklehock) was the fact that the most damage we could do, apart from a puncture ego, was to get our course card punched every time we slithered off the course, banging through snow banks and altering the scenery.
Nevertheless the fact that we were to start literally from ground zero and just go around an oval (near enough to a big zero – get it!) at speeds slow enough to get into the groove and then try and find the limits of adhesion and also the subtle nuances of when to steer, how quick or slow to steer while also being gentle on throttle to begin with while progressively moving on to plant that right foot deeper and deeper made us aware not just about the umpteen driver aids that modern day cars come brimming with technology and their efficacy but also how our own inputs can help get more out of them than we thought possible.
My good friend Siddharth Patankar, of NDTV's Car n Bike show was paired with me and we drew car no. 13 which was a great omen to begin with, neither of us ever given in to superstition or such mumbo-jumbo. However, what was enlivening, was the glow on Sid's face (covered as he was wrapped in umpteen layers of clothing to ward off the -19 degrees centigrade weather) on seeing the cars lined up to use were all bright red Audi S4 quattro Avants – absolutely cool to behold as they slipped, slithered and sizzled on the white powdery landscape. From a visual and a television point of view the last time we all had ventured forth on ice was with all white and/or silver-hued Audis so red was a welcome contrast to give both colour and flame the passions especially as we were way below freezing point!
The choice of car was a very important consideration. Audi has its Ice Drive Experience school operational in the early months of the year at various spots in the Scandinavian countries and being a two and a half-day expert course meant that we needed to drive a car very much in the mainstream yet capable enough to light the short wick and fire us as far as we dared to go. Mind you the S4 quattro Avants are no slouches and quite simply they have a compact package with enough oomph to get you into trouble in the blink of an eyelid.
However, the advent of quattro all-wheel drive which was perfected in competition is now so mainstream that it is almost a given for driving on slippery surfaces in Europe and the US and the S4 Avant is all the better for it. Of course all S4 Avants employed wore proper studded winter tyres and then to complement these two vital ingredients we had the entire menu of ESP, Traction Control, ABS with EBD, etc, etc as we attempted to work our way in extreme situations of a very low adherence surface.
While I had heard about the ice drive experience, surprising it might sound but I had never attended one before, on both previous occasions I was busy with something else and so Vikram Gour was the lucky bloke doing all the merriment in Santa Claus country. Also to find true icy surfaces meant that we had to ply our craft on lakes, frozen lakes that is! Having been perennially scared for water, it was with a bit of trepidation that I asked our instructors as to how thick be the ice on the surface of the lake.
When told that it varied from a metre to about three metres and that even heavy bulldozers powered on them, I breathed a bit easy! And when we hit the big lake I indeed could see the huge big John Deere tractors ploughing, shoveling and cutting deep swathes over the large expanse of the frozen lake. I could see that their pilots in the climate-controlled cabins were enjoying themselves thoroughly, slicing through the powdery snow and the glazed ice to carve out proper tracks for us to drive on. Surely the fastest and the most powerful single-seaters ever to storm the Arctic Circle!
The oval got us going round and round in circles but quite quickly we could see what the instructors meant to brake, get off the throttle, turn-in quick and then progressively use the throttle to get the car to slide and then steer in the direction you wanted to. The queasy feeling when the back end of a car comes around or when the front wheels lose grip and the car just ploughs straight on were areas to be tackled and the quicker we got the hang of this on the oval the better suited we would be on the purpose-built track akin to a road course albeit whose surface happened to be ice.
To begin with the whole scenario seemed surreal and the lack of traction in the early laps as we piled on the right foot deeper was manifest but the manner in which the instructors told us to co-ordinate our steering, brake and throttle helped us to lighten or weigh up the front end as needed so that traction was always there. And once you have traction you can steer wherever you want to, making for the car control I mentioned at the beginning of this feature. Much as I might tire of explaining, Audi's quattro made life so easy because this ingredient you now taken for granted in high performance every day road going machinery but here is where it works its best.
While the objective was car control, it is no good if you just putter around and don't hone you skills with a modicum of speed and the good thing was that bashing the snow banks meant just a fun way to find your limits without damaging car or self. Just think that if this were to happen in real world driving conditions on our roads, we could be potentially looking at a huge fatal mishap! Especially if you are driving in pouring rain during the monsoon season in India, you would be glad you learnt a thing or two about finding traction and steering safe and yet reaching your destination in a decent time frame.
Nowhere do you get to learn the ability to counter the dynamics of a car as it transfers its weight under braking and acceleration and thereby the difference in traction - grip is either added or subtracted given further inputs from steering and throttle. The ESP was always switched off and in this mode the ability to drift, hold the drift and then power in the direction the road takes was something I always thought that I would do so in my dreams, Heck the second day was a stormer as I was fortunate enough to have a car all to myself and the large road course carved out of the ice (almost in excess of 5 km lap length) was really stupendous to drive.
One never wanted to stop and even though we were finding differing levels of adhesion given many of our colleagues giving full vent to their enjoyment and remodeling the track, from the tight and the twisty it gave way to fast and flowing corners and the fun just multiplied with each and every lap. Sure enough it did turn hot, so much so that we began to feel warm on our own adrenaline and also because the mercury had climbed to -10 degrees centigrade from the -19 degrees we began the second day with!
It was a brilliant two and a half days of learning the art of car control in most surreal conditions ever and I came out the better for it. It is not just about human ability but also about perfecting technology for the masses in such extreme conditions and that is why most of the big name car makers do their winter testing in such areas. Some like Audi take it to another level and involve mere mortals like you and me to take in the experience and emerge a better driver.
Cross Country on Snowcats
Probably the hairiest thing I have ever done is to emerge unscathed from a dive into a frozen lake, especially given my mortal fear of water! It so happened that on the first of the two days, late in the evening, about 5.00 p.m. local time, we hit the snow trails on a host of Polaris snow mobiles. I was astride one of the most powerful 800cc two-stroke machines and though it was cumbersome to begin with, the rush of power as you pressed the throttle to release the power more than had me smiling.
Until that is mid-way through a very soft section in the snow I suddenly saw a rider bog down and then sink into a rut. Within seconds the expert crews were there to pull the rider and his machine out of the crevice and get him going. Trouble is they came and told the two riders ahead of me and then myself that we had to power through strongly as the icy surface was not strong or we would sink! Not the words I wanted to hear but the other two riders just about made it but when I powered through I was almost out of it when the ice gave way and I sank tail first!
The world seemed to be coming to a close I thought as my life flashed past but suddenly I was thrown out and on to the snow back. The safety crew came in and began to extricate my snow-cat out of the icy cold waters and I tried to get to my feet, took a step and suddenly I was chest deep in water flailing wildly!
Thankfully, strong arms got me out and put me back on my mount which was now on more firm surface! So many thoughts kept bombarding the mind and I didn't know then what was more amazing – my having survived a dunk in the lake or having survived without water getting into my clothes! Not that I cared then but it was a crazy experience and one which I promised myself I wouldn't want to repeat!