Aston Martin DB11 Showcased; Prices Start At Rs 3.97 Crore
---
The flagship supercar from the British manufacturer is possibly the automotive equivalent of Keira Knightley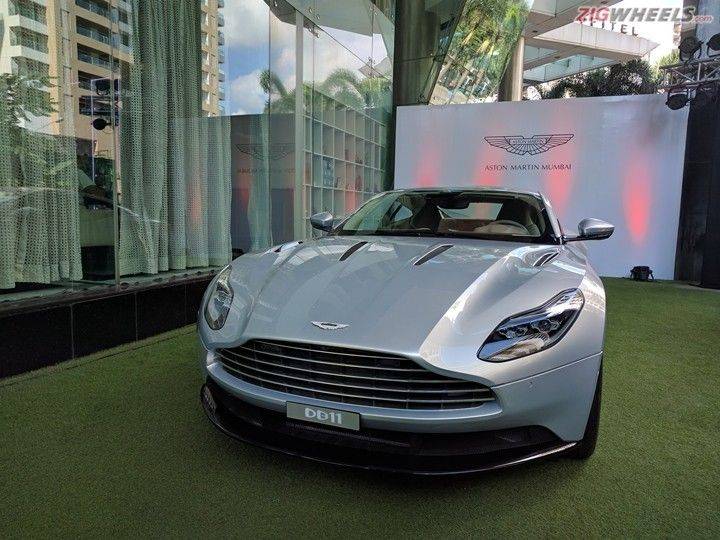 If you think the DB11 looks gorgeous in pictures, wait till you lay your eyes on one in person. I cannot begin to tell you how overwhelming it is. And, I like how it caters to most of your senses. It is jaw-droppingly beautiful to look at, bespoke to touch and feel, smells of high octane and it sounds like the God of thunder.
Tucked away from prying eyes, the Aston Martin DB11 was on display for us journos and a few prospective clients in Mumbai. Like we reported previously, the supercar will be touring India, and, Pune, Chennai and Hyderabad are next on the list. The sticker price for the big Aston stands at Rs 3.97 crore, sans any options or personalization.
It is not every day that you come face-to-face with a flagship Aston Martin, especially in India. Sure, manufacturers such as Lamborghini and Porsche have sold in huge volumes here, but there are a handful number of Astons you'd spot. Naturally, the exclusivity factor goes up a notch, that makes it all the more desirable.
If you still need convincing, take a good look at it. Everything from the sexy silhouette to the turbine-like wheels and the clamshell hood looks fantastic. The proportions are spot on for a Grand Tourer, and it looks like it has been styled using a sharp sword. There's a nice blend of crisp lines and clean curves that give the Aston Martin a jaw-dropping design.
The only word that comes to mind when you step inside the car is 'bespoke'. Everything you lay your hands on feels like it's made with some extra attention to detail. Elements such as the lovely knurled finish on the steering controls and the little plaque on the door sill that reads 'Hand built in England' give it that added dose of class.
In true Aston Martin fashion, the engine is at the front and the power is sent to the rear. Under the long hood sits a 5.2-litre V12 engine that embraces the concept of forced induction, while belting out 608PS and 700Nm of twist. 0-100kmph takes just 3.9 seconds, whereas top speed is rated at a whopping 322kmph!
The first DB11 recently rolled off the Gaydon production line, and global deliveries are set to commence soon. There's no word yet on the number of confirmed orders from India, but we think it is only a matter of time before someone here gets their hands on one!
View September Offers
View On Road Price