Aston Martin's Motorcycle Gets A 1:1 Power To Weight Ratio
---
The carmaker has collaborated with Brough Superior to build the AMB-001 shown at EICMA 2019
It is a track-only motorcycle adorned with slick tyres.
The AMB-001 gets a turbocharged V-twin engine producing 182PS.
Only 100 examples will be produced.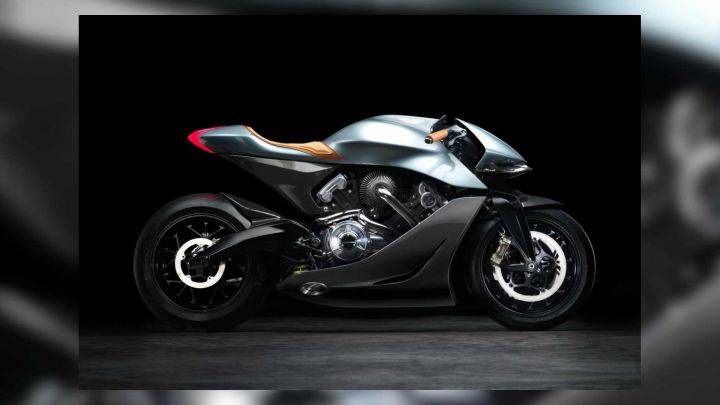 Carmaker Aston Martin announced a few weeks ago that it is collaborating with another iconic British brand, Brough Superior, to build its first motorcycle ever. The bike has now officially been unveiled at EICMA 2019, and boy is it a sight to behold.

While it does feature a round wheel at either end, the AMB-001 looks like nothing else you'd see on the roads today. A low, aerodynamic front screen contains a small aerodynamic slit at the bottom. Behind this, we can see some extremely low and steeply angled handlebars, and a large sculpted tank that flows into sharp extensions on either side. The bike in the images seems to feature a continuous 'spine' flowing all the way from the front of the tank to the tail section.

Sat atop this spine is the tall and elaborate looking rider's seat, behind which a short and stubby tail section houses the tail lamp. Exotic materials are in abundance, with carbon fibre, billet aluminium and titanium covering most of the motorcycle. The AMB-001 features unconventional front suspension with trailing arms and a single shock absorber, something similar to the Duolever setup seen on certain BMW motorcycles. Even at the rear, the shock absorber seems to use a unique linkage and is mounted underneath the swingarm rather than above it.

Another area where this motorcycle deviates from the norm is the engine, with the AMB-001 powered by turbocharged V-twin unit. This motor produces 182PS, but no torque figure has been released yet. This is strange, since a turbocharged V-twin should be able to produce class-leading torque figures. Still, with a dry weight of just 180 kgs, the AMB-001 has a 1:1 power to weight ratio. A fully digital colour TFT display is seen on the front of the motorcycle.
Only 100 examples of the AMB-001 will be produced at Brough Superior's factory in France, and each one will set you back by an eye-watering €108,000 (around Rs 84.83 lakh). Despite that, it is still the most affordable Aston Martin vehicle on sale today! Rolling on slick tyres with no mirrors or indicators, this is a track-only motorcycle and cannot be ridden on public roads.
Add Your Comments