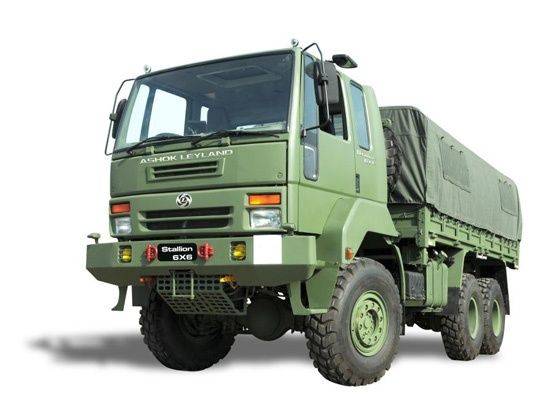 The 2012 DefExpo was a great showcase of the country's most rugged and robust vehicles that will very soon find their place amongst the fleet of the Indian Army. Among various automobile and commercial vehicle manufactures present with their specially armoured and equipped vehicles was Ashok Leyland, whose heavy duty STALLION truck is no new kid on the country's defense block.

Building on the heritage of its 6x6 STALLION model, of which more than 65,000 vehicles have already been deployed by the Indian Army, Ashok Leyland made its presence felt at the 2012 DefExpo in very big way with the unveiling of its face-lifted STALLION version and an all new flagship HMV 8X8 SUPER STALLION model.



STALLION 6X6

For those familiar with design and build configuration of the original STALLION this new face-lifted version is now significantly upgraded with regards to both its form and function. It has a more powerful 221PS Common Rail Diesel Engine capable of 800Nm of torque, that should make it a breeze to drive through demanding mountainous terrain. Ease of use is further addressed with inclusion of an Automatic Transmission.
The STALLION 6x6 is also equipped with a modern, face-lifted cabin that is ergonomic, air-conditioned with bucket seats and fitted with a driver-friendly information display cluster panel. The parabolic spring suspensions in front help improve ride comfort. As an added safety measure, a back-up Emergency Power Steering and a Semi-Automatic Tyre Inflation System will help the STALLION 6X6X seamlessly traverse across different kinds of terrains.


The STALLION 6x6 is a very versatile vehicle and can be used as Troop Carriers, Water and Fuel Bowsers, Light Reconnaissance Vehicle (LRV) and as the base vehicle to mount communication equipment and command control posts. This vehicle is already performing with the Royal Thai Army and is also operational in Honduras and South Africa.

SUPER STALLION HMV 8x8


While, the STALLION has been a huge asset to the Indian defense personnel, the need for something with higher mobility and greater power has resulted in Ashok Leyland conceiving a mammoth 8x8 version of its popular STALLION model, christened the SUPER STALLION.
As the company's new flagship model this high mobility vehicle has been specially configured to meet the army's emerging requirements in challenging desert terrains. It is propelled by a state-of-the-art powerful 360PS Neptune engine that can crank up a gut wrenching torque of 1400 Nm.


Other salient features of this monstrous military vehicle from Ashok Leyland include hub reduction axles to ensure better ground clearance and grip for its 8 wheels in sand and a Central Tyre Inflation System (CITS) enabling inflating or deflating tyres even when on the move. Comfort on this vehicle has not been sidetracked in the least bit with air-conditioning, ergonomic bucket seats and parabolic suspension being offered as standard equipment with this model.
The SUPER STALLION platform promises the same versatility of the STALLION platform and can be offered for a variety of applications like Field Artillery Tractor and Mounted Gun with different transmission and driveline configurations.


Commenting on Ashok Leyland's upgraded range of products on display at the 2012 DefExpo, Nitin Seth, Executive Director – Defence Business, Ashok Leyland, said "STALLIONS form the veritable backbone of their logistics operations and we cherish our role as their largest supplier of logistics vehicles."


Both these platforms are supported by a Fleet Management System (FMS) to ensure increased operational efficiency and fleet uptime. Fleet managers can track fleet usage, fuel usage and service complaints and plan scheduled preventive as well as corrective maintenance for these vehicles.


A comprehensive range of customer services is also on offer that include service camps, mobile and driver trainings. A mobile parts store, positioned in the Eastern Command, ensures easy availability of genuine spares that not only helps getting the vehicle back on the road faster but keeps it going longer.