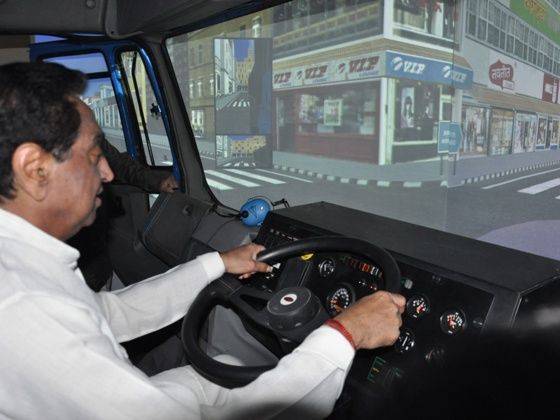 Ashok Leyland's new 15 acre Driver Training Institute (DTI) at Chhindwara, Madhya Pradesh has been inaugurated by Kamal Nath, Union Minister for Urban Development. The new facility is equipped with facilities for heavy commercial vehicle driver training such as the vehicles themselves, tracks of various configurations, classrooms, trainers and a state-of-the-art driver training simulator.
Speaking at the inauguration, Kamal Nath said, "Against a backdrop of a serious shortage of skilled drivers in the road transport sector, the need for well-trained commercial vehicle drivers has assumed grave criticality. I am aware of the pioneering work that Ashok Leyland has already done in the area of providing trained drivers to the industry and today's inauguration of this new Driver Training Institute is one more significant step in the right direction. I am delighted that this institute will also help create more employment opportunities for the youth of this region by facilitating a trainee's transition into a career."
Ashok Leyland has been operating its DTIs in Namakkal and Burari, these facilities are considered among the most comprehensive in India's private sector that have cumulatively trained over 500,000 drivers till date. Two more of the DTIs at Kaithal (Haryana) and Bhubaneswar (Odisha) are close to inauguration while another at Rajsamand (Rajasthan) is under construction.
"Our Driver Care programme connects with the driver community at three levels," said R. Seshasayee, Executive Vice Chairman, Ashok Leyland. "At the core, is their relationship with our vehicles and we have constantly been working at improving their overall drivability. At an important second level, is our driver training institutes that train and prepare drivers for life both on and off the road. Finally, there is an emotional connect, for which we have some key initiatives in place in the areas of health and education for their betterment."
The core around which Ashok Leyland's driver training program revolves is a health care initiative called 'Arogya'. The company has setup a medical centre set up at Hosur, Tamil Nadu, where drivers can avail of free medical check-ups and consultations. Another initiative is the 'All the Best' scheme, a scholarship programme for top-performing children of drivers. Launched in Tamil Nadu and Kerala two years ago, this scheme has benefited 650 deserving children thus far.