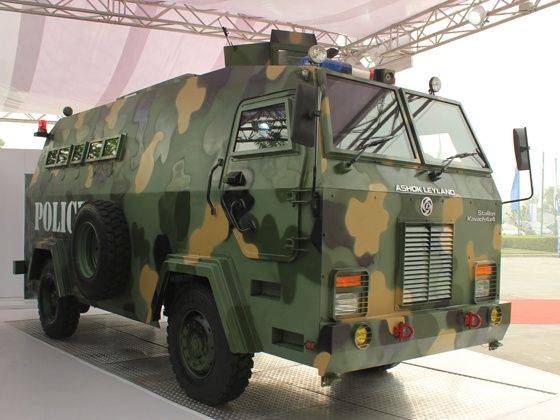 Ashok Leyland Defence Systems designs and manufactures tactical and armoured vehicles for the military, as of the now the defence vehicles from the company include the Stallion range of trucks and the Colt Light Armoured Vehicle.
Ashok Leyland has unveiled the Stallion Kavach 4X4 Armoured Troop Carrier (ATC) at the 2012 IFSEC & Homeland Security. The vehicle has been designed primarily for movement of troops and forces during counter insurgency operations, primarily in civilian territory. This means that not just the military, but even the police and other security bodies can use the vehicle.
The Stallion Kavach 4X4 ATC can transport 12 personnel including the driver and has NIJ Level III grade armour protection that can ward off rounds from light sub machine guns such as the INSAS rifle and the AK-47. The underbody can withstand blasts from two hand grenades and the entire vehicle can withstand blast of 5kg of explosives from a distance of 30 metres.
On the inside, the vehicle is equipped with fragment-protected seats, a 360-degree rotatable turret with gun mount and view port, four search lights on the roof, a PA system with audio and video, a 2X7 inch LCD screen that is connected to front and rear cameras, a storage box between the rear seats and the front of the cabin for supplies, weapons etc, 12 self-locking gun ports at the back and a rear roof hatch emergency exit. The rear seats are suspended from the roof of the vehicle and have no bolstering to the floor to reduce the impact of a blast for occupants.
The standard Stallion weights five tonnes, and with all its armoured insulation the Stallion Kavach weighs nine tonnes, with a payload of two tonnes. The engine generates 186 PS of power and gives it a top speed of 100km/h. It has a driving range of 500km on a tankful of diesel.
Ashok Leyland Defence Systems can customise the Stallion Kavach 4X4 and turn it into a command post, communication vehicle, ambulance or even a bomb disposal vehicle depending on the need of the customer. The storage box and the seats can be removed and other equipment can be installed in the spacious cabin. Customers can also choose the level of armour which can be specced for higher protection levels.
Slideshow: