Armaan Takes Podium In The Round 5 Of Lamborghini Blancpain Super Trofeo Asia
Sep 19, 2016
Views : 2259
---
Armaan and his teammate Dilantha were able to finish second on day one and fourth on day two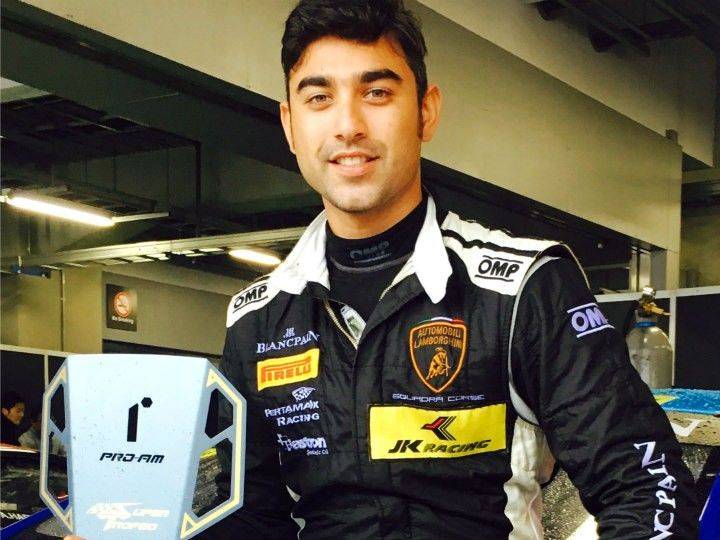 Competing in the Lamborghini Blancpain Super Trofeo Asia series, Armaan Ebrahim, along with his teammate Dilantha Malagamuwa, was able to finish first in his class and second overall on the first day (Saturday, September 17) of the race in Fuji, Japan. On the second day (Sunday, September 18), their combined effort brought their team a fourth position finish, overall, in the fifth round of the championship.
Armaan started second on the grid behind Jono Lester and was able to give him tough competition. In the battle for the first spot, Armaan exchanged his position with Jono at least four times, even achieving the fastest lap of the race in the process. He kept on the fight until he was forced to cut his pace to avoid further damage to his car -- which made contact with Jono's on the first corner.
The race was then taken over by Armaan's teammate Malagamuwa, who finished the race in the second place for the team. Malagamuwa and Armaan's combined efforts have brought the team its seventh podium finish in 10 starts this season.
Speaking of the second race, the team was able to finish fourth after starting sixth. Notably, all the drivers were driving in wet conditions following an overnight downpour. Malagamuwa started the race at sixth position on the grid, while Armaan later raced to the finish line, grabbing the fourth position.
Commenting on the weekend races, Armaan said, "I qualified second for Race 1, just .0012 off pole and Dilantha qualified sixth for Race 2. I moved into the lead after a good start in Race 1 by making a move around the first corner. I set the fastest lap of the race soon after. Jon Lester, who was in pole position, and I ran close, but I had to back off and settle for second because my bonnet was coming off."
He explained further: "This happened due to light contact at the first corner of the first lap. Anyway, I pitted in second right behind the leader. Dilantha went out and did well to maintain his position and bring the car home 2nd overall and a win in class."
Talking about the team's performance in Race 2, Armaan said: "Race 2 was a tricky one because it had been raining through the night, heavily enough for the start to be delayed. Dilantha, starting from sixth, lost out and ran wide at the first corner while trying to avoid a car that had missed his braking point. This made him drop way down the order and made life a lot harder.
"Dilantha did well to come back to seventh, but the gap to the leaders was massive. I managed to pull back a bit and brought the car home in fourth overall. Conditions were crazy as the rain kept increasing."
The Indian driver, along with his Sri Lankan teammate Malagamuwa hopes to do better in the sixth round, which will take place in Valencia, Spain, in December.