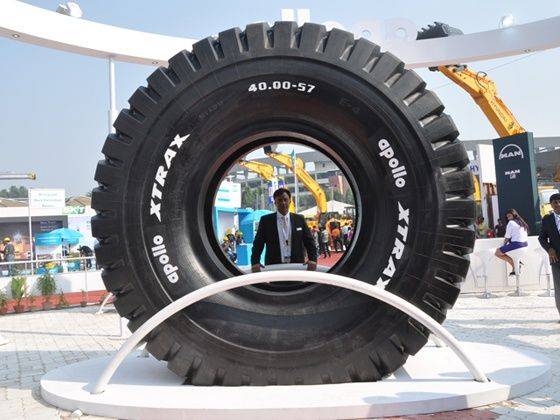 Ever wondered how colossal a tyre that weighs three times that of an average road car could look? Well Apollo just made one and no you can't get one fitted on your new SUV and make it a monster truck because the new XTRAX 40.00‐57, which is now officially the largest tyre produced in India will be used for mining purposes on 240 tonne dumper trucks.
Launched at the 11th International Mining and Machinery Exhibition (IMME) 2012 in Kolkata each one of these gigantic radials weighs 3,500kg and at 11.7 feet pretty much towers over anything that's remotely rubbery around them.
What exactly goes into making an XTRAX 40.00‐57? Try 1,900kg of rubber, 750kg of carbon black, 350kg of nylon fabric and 500kg of other rubber chemicals. These dumper truck tyres are being cured at Apollo's Limda plant, in the western state of Gujarat, one of the biggest curing presses available in Southeast Asia.
At present Apollo Tyres has four manufacturing units in India, four in Southern Africa and one in the Netherlands. India, South Africa and Europe are the company's three domestic markets from where products are exported to over 100 countries.