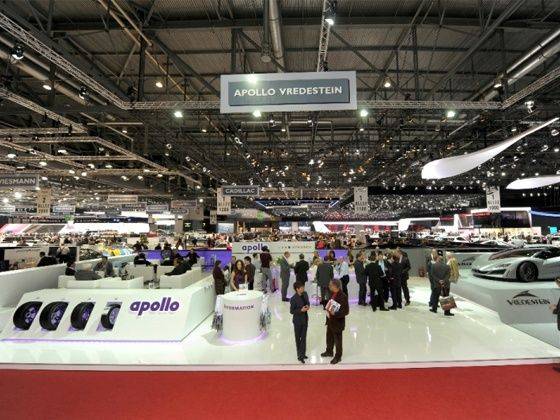 Having successfully launched its summer and winter passenger vehicle tyres in the European market, Indian tyre giant Apollo Tyres Ltd has launched its high performance tyre, the Aspire 4G, at the 2012 Geneva Motor Show. The Apollo Aspire 4G will be available in European markets in W and Y speed ratings that allow the tyres to be fitted to high performance cars that can travel up to speeds of 300 km/h.
Speaking at the formal launch of Apollo Aspire 4G, Neeraj Kanwar, Managing Director, Apollo Tyres Ltd said, "This tyre is a product of cross geography collaboration between our research and manufacturing teams in The Netherlands and India. Post the launch in Europe, we will make the Aspire 4G available in each of the non-European markets we currently manufacture and export to."
Sporting asymmetric design, the Aspire 4G from Apollo is designed to offer superior handling in dry and wet road conditions, shorten braking distances and lower rolling noise. Under dry road conditions, the wide outer shoulder with intermediate grooves forms a better contact patch. Under wet conditions, three wide circumferential grooves reduce chances of aquaplaning and increase grip. The reinforced centre rib of the tyre increases stiffness leading to more steering precision. The optimised contour and wide contact patch provides maximum traction and safe high speed manoeuvres. The Apollo Aspire 4G meets the highest European norms for external rolling noise and wet grip.
Rob Oudshoorn, CEO, Apollo Vredestein B V commented, "We are beginning production with 9 sizes which cater to the majority of cars in the W and Y rated category in Europe. Both the Apollo summer and winter range have found high acceptance in Europe in the past year in Germany, UK, Netherlands, Italy and Greece. Given this we are now expanding our base into Switzerland, Austria and Denmark. The Aspire 4G has been extensively tested at IDIADA, Spain and ATP Papenburg, Germany and proved to achieve excellent results."
Apollo Tyres has also associated with sports car manufacturer Lotus, although to create a different kind of tyre. Lotus' eco-friendly car the Evonik Light Weight Design (LWD) that was on display at the 2012 Geneva Motor Show was shod with low rolling resistance Apollo tyres that increase fuel efficiency up to 8 percent.
At the other end of the scale Apollo Tyres has constructed a low rolling resistance tyre with sports car maker Lotus.