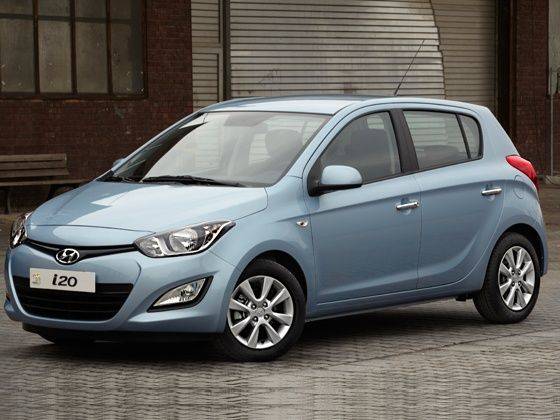 Hyundai has released the first image of the all-new i20 ahead of its premiere at the 2012 Geneva Motor Show. Carrying the same 'fludic' sculpture design as on other recent Hyundai cars, the updated i20 will have a new engine option for the European market – a 1.1-litre. 3-cylinder, 'U-II' diesel engine that will be mated to Hyundai's Blue Drive Technology. While the blue drive technology may still be a long way off from being introduced in the country, the new-look i20 will eventually make it to Indian shores.
The new i20 now carries the company's signature hexagonal grille with revised fluidic sculpture throughout its body. Designed by stylists at Hyundai's design studio in Europe, the new i20 now sports a more contemporary front profile, with redesigned headlamps, a new sculpted bonnet and rim design. The rear, too, gets redesigned bumpers and tail lamps. While the rest of the dimensions of the new i20 remain the same as the outgoing model, the length has been increased by 55 mm. Under the hood will be a 75 PS, 1.1-litre diesel option along with the existing 1.4 litre diesel motor.
Allan Rushforth, Senior Vice President and Chief Operating Officer of Hyundai Motor Europe, said, "The i20 has been very popular with European buyers since it came to market in 2009, thanks to its combination of efficiency, quality, practicality and value. With an enhanced engine line-up that includes the lowest CO2 emissions for a conventional powertrain, and sharper styling influenced by fluidic sculpture, the all-new i20 will appeal to a broader range of buyers, including younger consumers. The assurance of our industry-best, comprehensive Five Year Triple Care package makes the all new i20 an even more attractive proposition."
The Five Year Triple Care package available in UK covers the car for five years/unlimited kilometres in case of manufacturing defects, 24-hour roadside assistance and annual vehicle health check.
More information on upcoming Hyundai products that would possibly reach Indian shores as well will be available after the company's press conference on March 6, 2012 at the Geneva Motor Show.