All-New Audi A8 Bows In At Frankfurt
---
In a sea of self-driving concepts, autonomous driving takes a big leap right now with the A8's Level 3 credentials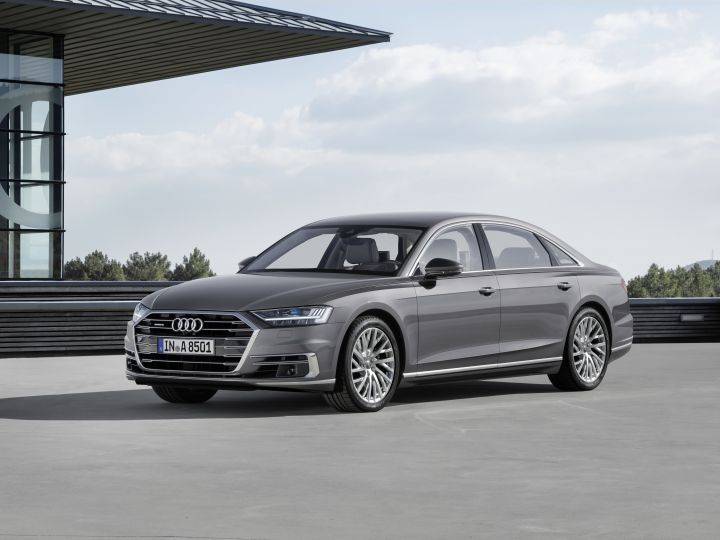 Think about the luxury limo space and any associated first-mover advantage and it's likely that the S-Class comes to mind. But now, Audi's new A8 changes the equation, by bringing with it some state-of-the-art features that we should be seeing in its younger siblings like the A6 and A5 soon.
With design inspiration from the Prologue concept, it looks very distinct and more importantly, futuristic. It's not just a future-first look -- the new gen car is also the first production model to offer "Level 3" autonomous driving as standard. This means the car can run by itself with no human intervention on free highways, at speeds of up to 60kmph. If Audi is the first to get this tech to India still remains to be seen.
In terms of the design, the single-frame grille is wider and the car itself is longer and narrower in size than the outgoing iteration, which makes it look like a sporty limousine.
Inside, however, it screams luxury. The instrument panel is kept largely free of buttons and switches.The system does away with the rotary push-button control and touchpad of the predecessor model. It looks minimalistic and provides an idea of easy control and smooth functioning, with two touchscreens. When not in use, the screens blend almost invisibly into the high-gloss black faceplate of the instrument panel.

Tech aside, even the headroom and entry dimensions are greater than the older model's. Not to forget, the 'relaxation seat' next to the driver's seat that comes with not just a foot rest but one that will massage your feet. It also provides you with back massages and allows you to adjust the ambient lighting in the car.
The car is also designed to act somewhat like an on-road assistant. You can ask the car to navigate you to places, call contacts on your phone book, use it to control the media, the temperature or other Audi services.
The driver can open the car from his smartphone using it as a key and can provide access to four other people to do the same. As soon as the car identifies the upcoming driver from their phone, it adjusts everything from the seat position to climate control preferences as per their usual choices. You can also start the engine from your phone.
Coming to the chassis and performance, the car functions on a mild-hybrid drive system, which means it is powered by a water-cooled 48-volt belt alternator starter (BAS) and a lithium-ion battery with 10 Ah electrical capacity.

The stock motor for UK buyers will be an updated version of Audi's 3.0-litre V6 TDI unit, producing 286PS, but there will also be a V8 diesel with 435PS soon after launch. The first weapon of choice for India, of course, will be the prior.
Audi also plans on bringing the A8 L e-tron quattro into production soon, which mixes a 3.0-litre turbocharged V6 petrol engine with an electric motor to offer a combined output of 449PS and 700Nm of torque. The e-tron's boot space takes a small hit to accommodate batteries that allow the car to drive up to 48km without firing up the combustion engine.
In all, the new Audi A8 turns things of fantasy and science fiction into something you can actually buy from a showroom right now. The combination of next-gen tech and opulence makes it look like a new status-quo has been set.
But is it enough to take on the Mercedes-Benz S-Class? Watch this space.
Recommended Read:
- 2018 Mercedes-Benz S-Class Coupe And Cabriolet Revealed
- 2018 Audi A8 Breaks Cover; India Launch Likely Next Year

Recommended Variant :
A8 50 TDI Premium Plus