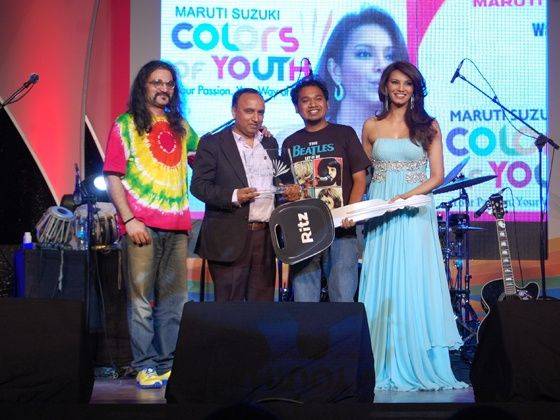 Driving home a brand new Maruti Suzuki Ritz, Abhishu Rakhit, a student from Great Lakes Institute, Chennai took the spotlight in the car-maker's Colors of Youth 2011 competition with his outstanding talent for singing. Sukriti Giri from Pailan Institute of Management and Technology, Kolkata grabbed the runners up position.
Launched in 2011 by the India's largest car maker, The 'Colors of Youth' competition gave Maruti Suzuki India Limited an opportunity to hunt for the most versatile and talented youth from national B-schools and professional colleges across the country.
The competition consisted of two challenges - a quick fire Quiz on the Indian Business scenario and current national and international scenario and a talent Hunt in any category that included music (vocal or instrumental) dance and other (stand-up comedy, innovation, car graphics, painting, etc). 850 students from Delhi, Chandigarh, Hyderabad, Kolkata, Indore, Lucknow, Chennai, Mumbai, Bangalore and Pune took part in the 'Colors of Youth' competition consisting of preliminary rounds, followed by 4 zonal rounds and a mega finale in New Delhi.
Shashank Srivastava, Chief General Manager (Marketing) Maruti Suzuki said, "60 percent of the population in India was born after 1985. Maruti Suzuki takes inputs from the youth for cars across our model line-up, this has made our cars very popular with the young generation of our nation. 'Colours of Youth' is another initiative of ours to connect with the youth and promote talents of youngsters who are engaged in academics. The Ritz has recently crossed over a million fans on facebook which shows the interest of the youth in the car."