A Karizma Scrambler Unlike Anything You've Ever Seen Before
---
This frankenstein bike has been built in God's own country
Named the 'Katalan', this scrambler is based on a 2012 Hero Karizma R.
The wheels are from an Impulse and a Himalayan.
A scrambler-style, high-mounted exhaust is present.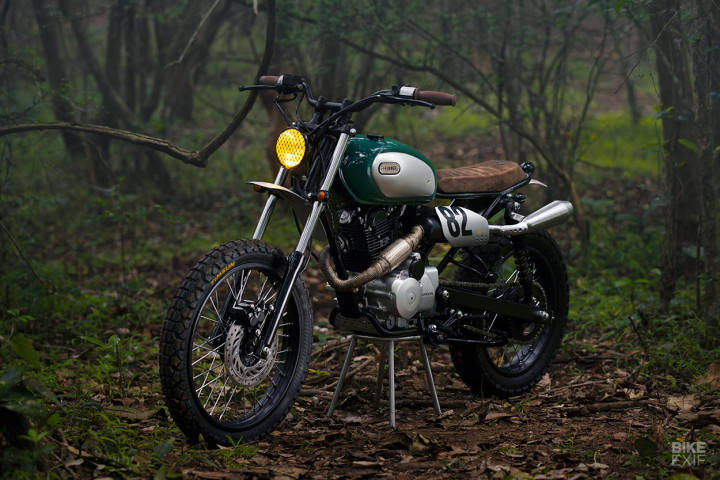 The Indian market, at least up until now, has lacked a decent choice of low displacement off-road motorcycles. It's only recently that the Hero XPulse 200 was introduced and finally gave us an offering in the 200-250cc range. But Mohamed Adhil was determined to build himself a quarter-litre scrambler, no matter what. The end result? The 'Katalan' that you're looking at here.

The bike is based on a 2012 Hero Karizma R, but you'd find it hard to tell that by just looking at it. The tall stance comes thanks to a front end that's been lifted from an Impulse - 19-inch wheel, fork and everything. The 17-inch rear wheel is from a Royal Enfield Himalayan, and the swingarm is suspended by dual-shock absorbers from a Yamaha SZ-RR, making this quite the Frankenstein motorcycle.

There isn't much to speak of in terms of bodywork, but what little there is has been tastefully done, the British racing green contrasting well with the brushed metal panels and fenders. Of course, the scrambler look wouldn't be complete without a high-mounted exhaust pipe, but thankfully there is a very smart-looking 'floating' heat shield to protect your thighs. At the other end of the motor's respiratory system sits a custom air box.

Not even the frame was left alone, with Adhil shortening the tail-loop to get the look he wanted. The seat above looks exquisite, and its brown shade goes very well with the rest of the design. The theme of minimalism extends to the slender fuel tank and basic but fetching instrumentation. The two elements even combine together, with what appears to be a fuel-gauge being placed on the top of the tank.

The look is finished off by a simple, classic round headlight and tall-wide handlebars. The Katalan looks quite imposing, partly due to its large front wheel, partly due to the high-mounted fenders, but mostly due to its overall height. It's obvious that a lot of effort has gone into this bike, and the end result is aces in our book. We look forward to seeing more such work from Adhil.
Add Your Comments
View all comments