Here Are 5 Of The Best Bits In The 2021 Mercedes-Benz S-Class
---
The latest iteration of the luxury barge is a comprehensive step up from its predecessor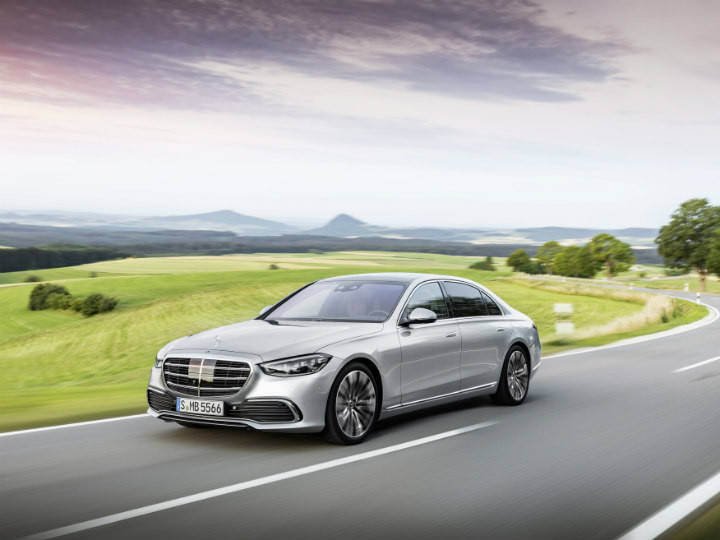 Mercedes-Benz recently took the wraps off the latest iteration of its S-Class luxury sedan and it generated quite the buzz in the auto industry. It comes loaded to the brim with features in what is a massive step up from its predecessor. Here are five such eye-catching features in the 2021 S-Class:
Bigger, Yet Aerodynamically Efficient

Aside from some modern touches on the exterior, the new S-Class has also grown in size despite the overall silhouette being largely similar. The standard wheelbase variant is longer by 54mm, taller by 10mm, wider by 55m, and has had its wheelbase extended by 71mm. The longer wheelbase variant, on the other hand, is longer by 34mm, wider by 55mm, taller by 12mm, and has had its wheelbase extended by 51mm. That said, there's no compromise on aerodynamic efficiency, with a drag coefficient of 0.22.
A Multiplex Cabin

The biggest change in the S-Class cabin is the addition of multiple digital screens. Five to be exact with three at the rear, a 12.8-inch main touchscreen infotainment system in the centre, and a new 3D view driver display. Its latest MBUX system allows up to seven custom settings for the passengers and the driver's seat which can also be transferred to another Mercedes-Benz model with the same system.
Tech Wizardry

The 2021 S-Class sports some nifty convenience features such as adaptable ambient lighting that works with the blind-spot assist to change colours for collision warnings and a head-up display with augmented reality that works with the navigation system. It also gets gesture controls for operating the touchscreen infotainment systems as well as opening/closing the sunroof.
Autonomous Tech

The new S-Class now heads into the realm of Tesla models with Level 3 autonomous driving tech. Mercedes-Benz claims that by 2021 the car will be able to drive entirely on its own in certain areas in Germany. Part of this futuristic tech is Automatic Valet Parking which lets you park and unpark with remote parking assist through your smartphone.
A Plethora Of Powertrains

You'll be spoilt for choice when it comes to the powertrains on offer: a couple of 3.0-litre inline-six petrol engines with 48-volt mild-hybrid tech and a 3.0-litre inline-six diesel motor. A more powerful V8 variant and a plug-in-hybrid powertrain capable of an electric range up to 100km will also be offered soon. Oh, and how can we forget the spicier AMG versions, the ultra-luxurious Maybach edition and its all-electric sibling, as well as the 700-km range EQS slated to join the lineup soon.
Back home, the new S-Class could show up around 2021 with an expected starting price around Rs 1.4 crore. It will take on the Audi A8L and BMW 7 Series.
Mercedes-Benz S-Class 2021 Alternatives