2020 Corvette Stingray Is Now Mid-Engined And Even More Mental!
Jul 19, 2019
Views : 1735
---
2020 Corvette Stingray packs a mid-ship V8 good for 490PS in its entry-level trim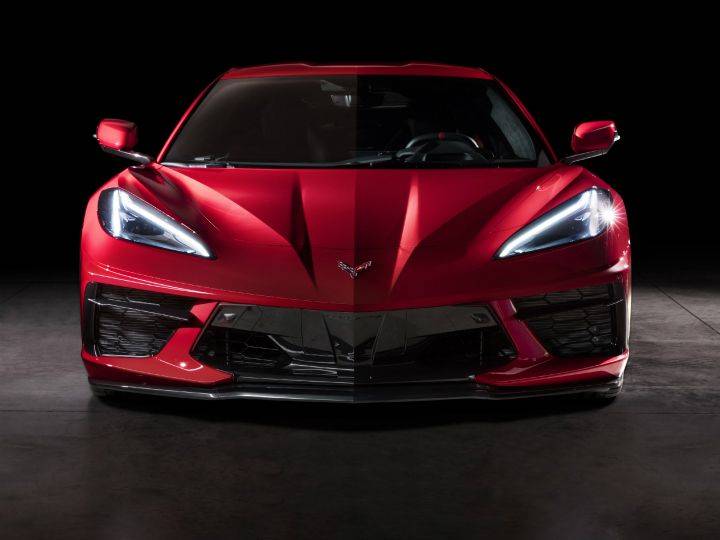 6.2-litre naturally aspirated V8 engine produces 490PS and 637Nm.
2020 Corvette Stingray does 0-100kmph in under 3 seconds!
Specifications point towards a dynamically competent supercar.
It is priced under $60,000 (Rs 41 lakh excl. taxes) in the US.
The first ever mid-engined Corvette is here and it is also the fastest and the most powerful entry-level Corvette ever. The new 'Vette, as we had mentioned earlier, has gone through an extensive change and pushed the engine further backwards (finally!) making it a mid-engined supercar. This identity change is a welcome addition, and yes, the new iteration carries a premium over the outgoing model with prices starting at less than $60,000 (Rs 41 lakh excl. taxes). But the 2020 Corvette Stingray just so happens to be the most affordable mid-engined supercar in its territory, undercutting its rivals by a substantial margin. Here's how:

"Jewel in the centre" as Chevy remarks is a 6.2-litre LT2 small block V8 engine that produces 490PS of power and 637Nm of torque. While its rivals have gone down the forced induction route, the Corvette retains a naturally aspirated motor. An 8-speed DCT is deployed to send the power to the rear wheels and the supercar also comes with six drive modes -- Weather, Tour, Sport, Track, MyMode and Z mode. The sprint from 0-100 kmph comes up in under 3 seconds, which is at par with the most powerful factory built Corvette, the C7 ZR1. That said, Chevrolet has not revealed the top-speed and how much the new Corvette weighs.

The new mid-engine layout also brings with it various perks apart from improving the weight distribution and dynamics of the Corvette. The 2020 Corvette Stingray can accelerate from 0-100kmph in under 3 seconds when equipped with the Z51 performance pack. This optional pack bumps the power up a notch (5PS) and adds adjustable suspension, bigger brakes, enhanced cooling, specific axle ratio, front brake cooling inlets as well as a performance exhaust.

The lower centre of gravity coupled with improved steering and chassis upgrades point towards a more focussed driver's car. It features an electronic LSD and the front splitter along with the two-piece rear spoiler adds up to 181kg of downforce. The new Stingray is also available with Magnetic Ride Control 4.0 which adjusts the suspension real-time, providing the best balance between ride and handling.

The new Corvette, Chevy says, takes inspiration from the F22, F35 and other modern fighter jets as well as Formula One race cars. It's no wonder then that it looks sharper than its predecessors.

The supercar features huge air dams up front and the wide haunches now feature air intakes that might split opinions. The interior features a driver-centric dashboard design which is available in six colour themes. Some standout features include a 12-inch customizable instrument cluster, wireless charging, a 10-speaker Bose sound system, heated steering wheel, and more.

Chevy has not yet revealed the entire variant list of the new Corvette, but expect wicked versions to follow later. The new Corvette looks like a winner, at least on paper. It is not only quicker than the Honda NSX, Porsche Carrera S and Mercedes AMG GT, it also undercuts all its rivals by a massive margin. Best of all, Chevrolet says it is not just focusing on the American market this time around as the 2020 Corvette Stingray will also be available in right hand drive configuration for the first time ever. However, do not expect it to come to India anytime soon considering that Chevrolet withdrew itself from the Indian market a few years ago.