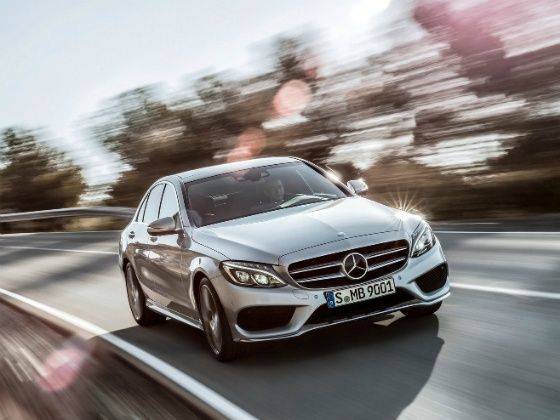 Mercedes has taken the wraps off its next-generation C-Class that's a whole lot better, bigger and lighter than its predecessor. The out-going C-Class was Mercedes' most successful model till date clocking over 2.4 million units so replacing it required something really convincing.
The C-Class was known as a 'Baby Benz' but with the CLA around, it had to grow up and so the new car is 95mm longer and 40mm wider than the old car. The wheelbase also goes up by 95mm. The increased dimensions notwithstanding, its aluminium hybrid body and other weight saving tech have reduced its overall weight by 100 kilograms. On the styling front, the new C-Class bears the same family design cues as the new S-Class, A-Class and updated E-Class.
Coming to the technological advances in the new car, we are impressed with the new S-Class systems featuring in the C-Class list. It includes Attention Assist, Adaptive Brake Assist and Collision Prevention Assist Plus, the latter capable of braking autonomously at speeds of up to 200kph, if you know, you doze off. Optional safety and assistance systems from the new S-Class and E-Class include Distronic Plus with Steering Assist, Brake Assist System, Active Lane Keeping Assist, Active Parking Assist, a 360 degree camera, Traffic Sign Assist with Wrong Way Alert and Adaptive High Beam Assist Plus. Phew!
What's more, the new C-Class will protect your pelvis from an impact with its Pelvisbags for the driver and passenger. It also has newly developed Windowbags, sidebags for outer passengers and kneebag for the driver. The airbag automatically deactivates when you attach a child seat to a particular seat.
For the first time for a car in this class, the new C-Class will get optional air suspension for the front and rear axles. It has four modes – Comfort, Eco, Sport and Sport+. The standard steel suspension has three modes – comfort, Avantgarde and Sports suspension.
Joining the engine line-up is a new 1.6-litre 4-cylinder supercharged diesel engine in two states of tune. You can opt for either 115 or 136hp versions. A step above is the 2.2-litre 4-cylinder diesel engine. Internationally it will cover an output range of 115hp to 204hp. The third option is the familiar C220 BlueTEC motor developing 170hp.
The four-cylinder petrol engine has an output range of 156hp to 238hp. Mercedes will also have a 333hp six-cylinder petrol mill in the near future for the new C-Class.