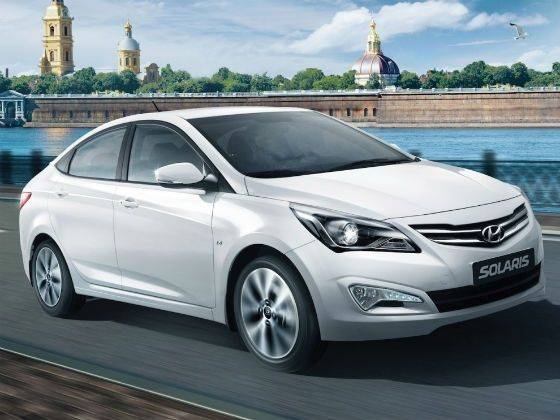 The Hyundai Verna has been updated and launched in Russia and the facelift should make it to India soon. It's called the Solaris in Russia and so the car in these pictures bears that name. The Hyundai Verna in its refreshed avatar gets bolder and more mature styling in line with models like the Sonata and Genesis.
The prominent front end catches your eye instantly as the sleek headlights give way to a larger headlamp housing with projector lights. The front grille is new and wider as well sporting two chrome slats instead of one. Rounding off the changes to the front end is a redesigned bumper with new fog lamps that sport LED daytime running lights. The rear has been left mostly untouched baring LED inserts to the tail-lamp cluster, redesigned reflectors and a black plastic lip to the rear bumper giving it a sporty stance. There have been no changes made to the interior of the car.
The updated Verna in Russia also gets a six-speed automatic. It will be interesting to see if Hyundai brings this gearbox to India as numbers for the automatic variants aren't too high. The Verna is sold with four engines in India – 1.4-litre and 1.6-litre petrol and diesel units. The 1.6s are available with 4-speed automatics as well making the Verna line-up the widest engine and gearbox portfolio in India.
Since the launch of the Honda City in January 2014, the Verna is facing a tough time to maintain its sales numbers. The Korean carmaker is offering sizeable discounts on the Verna these days and so this facelift spells good news for the company. The update should give the Verna that much needed zing to claw back some market share that was lost in 2014.