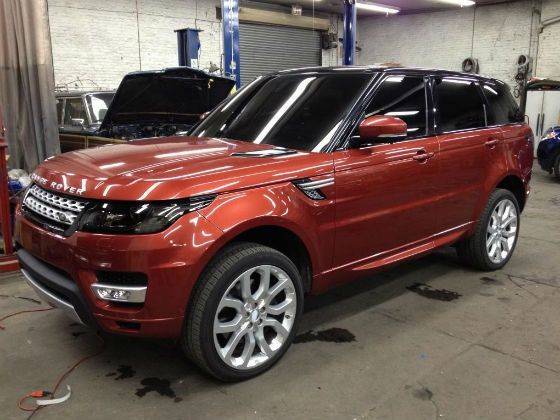 Range Rover had planned a grand unveiling for its upcoming 2013 Range Rover Sport, releasing carefully doctored teaser images of the luxury SUV a few days ago to build up the hype. But their flamboyant plan has been blown out of the window as images of the Sport surfaced online. The images were leaked by a window-tinting contractor where the car had gone to get its windows tinted before an advertorial video was supposed to be shot. The new car was supposed to be revealed at the upcoming 2013 New York Motor Show on March 26th, since the Sport has been the highest selling model for the manufacturer in North America. Related: Land Rover Freelander 2 launched
Visually the new Sport's design is highly influenced by the Range Rover and the stylish Evoque. The black-bordered headlight is similar to the firm's flagship model and the same applies to the taillight whereas the two-bar grille and fog light design has been borrowed from the Evoque. The sloping roof is also influenced from the compact SUV which makes it look like an overgrown Evoque when viewed from side. The designers have managed to maintain the classic shape albeit modern design ques, which works in the favour of the Sport.
It is speculated that like its big sibling the Sport will have an all-aluminium structure which will help in shedding its weight by around 317kg over the current kerbweight of 2,535kg. This weight reduction should give the car better performance figures and improve efficiency. While a supercharged 5.0-litre V8 is expected on the top-line model, what isn't yet clear is if the entry-level HSE will be a non-supercharged 5.0-litre V8, or a supercharged 3.0-litre V6. More details about the car and its pricing will emerge after the launch later this month.