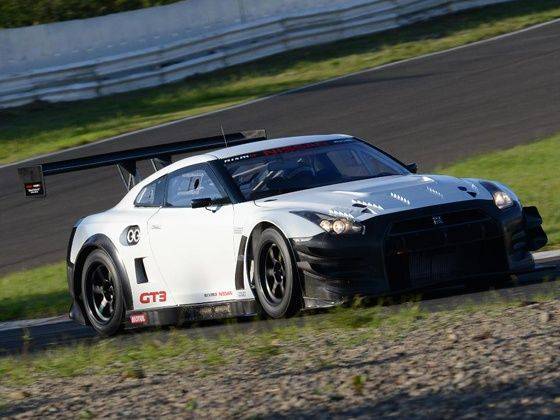 The 2012 Nissan GT-R Nismo GT3 that debuted in March 2012 went on to win a number of races across the globe including the Super GT series (GT 300 class), Taikyu (GT3 class), British GT Championship and the GT Cup.
Nissan's motorsport division, Nismo, has used all the data from these races along with customer feedback as well as track and dyno tests to develop the 2013 Nissan GT-R Nismo GT3.
The most significant enhancements to the model are on the car's brake balance, gear ratios, aerodynamics, suspension and, of course, the engine for higher performance and durability.
The engine has been given new camshaft timing, while all moving parts have been reinforced to maximise durability. There are new canards at the front, the front fender louvers have been enlarged and the position of the rear spoiler has been further optimised to improve aerodynamic balance between the front and rear as well as to increase downforce for overall enhanced aerodynamic performance. The reworked gear ratios complement the engine's higher power output.
The engine can now generate 550PS of power or higher and 637Nm of torque or higher depending on the requirements and power caps of different FIA race series across the world.
The 2013 Nissan GT-R Nismo GT3 is a car that has been specifically created for racing purposes only. It cannot be purchased or registered for use on public roads.
The car has been priced at ¥ 35,000,000 (Rs. 2.36 crore) in Japan, Asia, North America, South America and Oceania. Sales and customer support in these regions will be provided by Nismo itself., however, its project partner JRM will continue to cover sales and support of the Nissan GT-R Nismo GT3 in Europe, Russia and the Middle East. The racing car has been priced at £270,000 (Rs. 2.35 crore) in Europe, Russia and the Middle East. Local taxes will be extra as per country norms.
Nismo is also working on an update kit for the 2012 Nissan GT-R Nismo GT3 so that it can be updated by racing teams to be brought up to par with the new 2013 model.
The 2013 Nissan GT-R Nismo GT3 is manufactured on demand. Orders opened on November 13, 2012. In case orders exceed production capacity for the car Nismo reserves the right to make the final decision for order fulfilment.