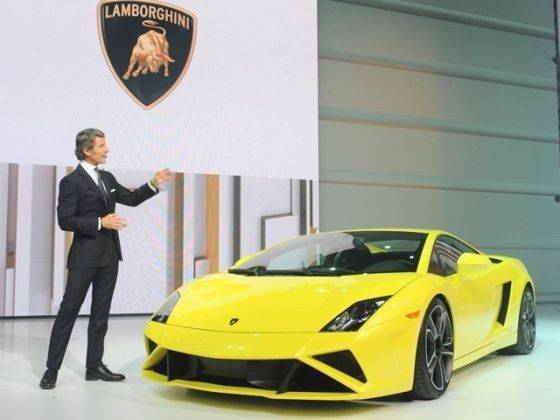 The 2013 version of the Lamborghini Gallardo has been revealed at the 2012 Paris Motor Show. The baby Lambo is the most successful model for Lamborghini and to keep it fresh it has been given a face-lift before the new Gallardo makes its entry in 2014.
The face-lift has lent a slightly more aggressive look to the Gallardo LP 560-4. The front end and the rear have been redesigned for the 2013 model year. The front bumper gets more pronounced triangular design air intakes along with the Lambo typical trapezoid shape at the centre.
The car also gets new matte black 'Apollo polished' 19-inch alloys with polished silver spoke inserts..
Completing the face-lift is the rear end with larger air outlets (again in trapezoidal and triangular shapes) for the engine to improve its thermodynamics. The Gallardo's trademark quadruple tail pipes complete the rear end styling with the massive rear air diffuser.
The 2013 Lamborghini Gallardo gets an optional styling pack that offers high gloss black paintwork on the underside of the front spoiler, front and rear grilles and for the rear trim of the car.
The 2013 Lamborghini Gallardo will hit showrooms in November 2012.
Slideshow:
Alongside the 2013 Gallardo Lamborghini has also revealed a new trim version called the Edizione Tecnica for the Gallardo LP 570-4 Superleggera and Spyder Performante versions. In Edizione Tecnica form, the Gallardo 570-4 will benefit from more dynamic styling, a bigger rear spoiler, carbon ceramic brakes, E-Gear, and a bestrutted rear wing.
The Edizione Tecnica will be available with new, exclusive colour combinations that will paint the roof arch and front air intakes in contrasting colours. The available shades are: Nero Nemesis (matte black) body with Arancio Argos (orange) pillars and front air intakes, Bianco Canopus (matte white) body with Arancio Argos pillars and front air intakes, and Arancio Argos body with Nero Nemesis pillars and front air intakes.
Lamborghini will also grant customers of the Gallardo LP 570-4 Edizione Tecnica access to its 'Ad Personam' customisation program for further styling enhancements.
Slideshow: