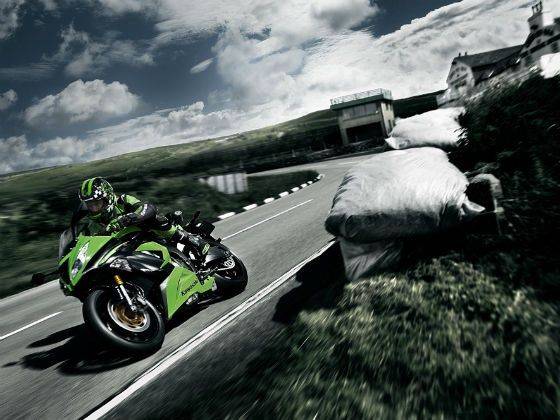 In 2003, Kawasaki made an unusual switch by moving away from the conventional 599cc norm for middleweight supersport machines and instead launched a bumped up 636cc ZX-6R motorcycle, which despite having to missing out on AMA Racing Championship in the USA due to the 599cc engine capacity regulation, managed to quickly garner enormous amount of reverence amongst street riders and track-day goers.
The last 636cc engined ZX-6R rolled out in 2006 and for 2007, the Japanese major reverted back to 599cc for the ZX-6R. A decade later since the first ever ZX-6R 636 turned a wheel, Kawasaki has re-introduced the "six-three-six" for 2013 What was considered to be one of the best middleweight superbikes in the world and went on to win two Masterbike Challenge for two consecutive years in 2004 and 2005, the 636 has made a comeback in the 2013 Kawasaki model line-up completely replacing the previous 599cc model while retaining the revered moniker – Kawasaki Ninja ZX-6R 636.
The 37cc bump in capacity comes via increasing the stroke from 42.5mm to 45.1mm and the 636cc engine now churns out 132PS of power at 13,500rpm and an impressive 70.5Nm of torque peaking at 11,500rpm. A lot of focus has been put into enhancing the 2013 ZX-6R's mid-range grunt with the connecting rods having shortened by 1.5mm in length.
This time around though, the middleweight beast gets a whole lot of tech-wizardry including Kawasaki's revered traction control system (KTRC) that features three modes which can be employed depending upon track use, street use and during low-traction conditions. Mode 1 is suited for maximum acceleration and outright performance while Mode 2 provides a balance between performance with minimal wheel slip for regular street use.
Mode 3 focuses on slip elimination resulting in additional confidence for the rider, especially on slippery road conditions. Although for riders with suicidal tendencies, there is an option to completely turn off the KTRC system and let loose all that power in its wildest form.
Aiding the high-tech traction control system are two riding modes – Low and Hi, which further help in exploiting the full potential of the 2013 ZX-6R in a timid manner. The 'Low' mode restricts the engine power output to 80% resulting in milder throttle response while the 'Hi' mode unleashes all of the 132 horses and is best suited for competition use or in highly trained hands on the street. A slipper clutch assist mechanism is also employed in order to curb down rear-wheel hop on down-shifting.
Also employed is Kawasaki patented KIBS multi-sensing Anti-lock Braking System taking care of the stopping duties. Alongside the bigger and improved engine, the suspension components too have been bumped up and the 2013 ZX-6R gets top-notch Kawasaki-patented Big Piston – Separate Function Forks that features dedicated preload adjustability in the left tube and dedicated damping pistons and adjustability in the right tube.
There are a host of upgrades on the Kawasaki ZX-6R for 2013 that go beyond the engine displacement hike. Styling of the new ZX-6R's bodywork too has been revised and is in line with the aggressive Sport model range from the Japanese motorcycle giant and no doubt it looks much leaner and meaner in its latest form.