Tork India wins the opening round of 2010 TTXGP
---
An all-Indian team entry in the 2010 TTXGP electric bike championship, Tork India, won the opening race defeating some of the biggest names in the electric bike racing industry.
After finishing on the podium at the world's first Zero Emission Grand Prix held last year at the Isle of Man TT, this year the Pune-based Tork India Team bagged top honours at the very first round of the 2010 TTXGP UK Zero-Emissions Motorcycle Racing Championship held at Snetterton in UK, yesterday. Tork India's rider, Jim Lovell showed consistent pace throughout the weekend and qualified second on the grid behind pole-finisher Jenny Tinmouth of Team Agni. Early into the race, Lovell and Tinmouth were joined by Team Agni's second rider, Rob Moon for the fight for the lead but once onto the straight, the Tork India bike had a clear-cut top-speed advantage over the Agni motorcycles, which helped Jim to secure the lead.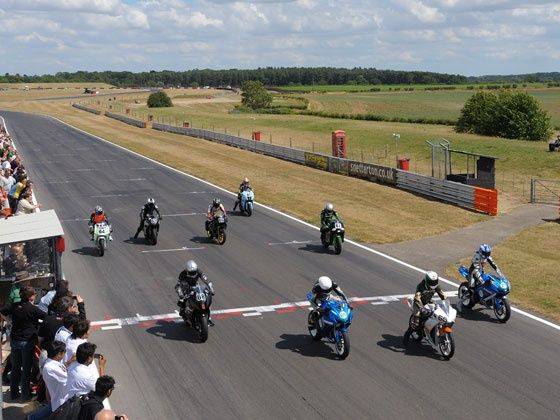 From there onwards, Jim upped his pace and recorded the fastest time on lap number 5 with an average of 130km/h, in the process winning the Green Insurance Award. Eventually, Jim comfortably finished the race in first place astride the Tork India electric race-bike. Speaking about the team's latest achievement, Kapil Shelke, the Tork India Team boss said "We are very happy with this achievement, but still have a lot more to give. We have our eyes set on Albacete but the competition is very close so there are bound to be many more challenges to face. However, I would like to say this win could not have been possible without the support and help of Agni motors and Arvind Rabadia and Cedric Lynch. Big thanks to them and our main sponsor Tirupati Engineering in India."
Second and third places went to team-mates Rob and Jenny of Team Agni, respectively. Both the team Agni riders were on equivalent machinery and hence had a really exciting racing going on between them for second position. One of the most talked-about and known electric motorcycle, Mavizen, was also impressive and consistent in its performance over the weekend with rider Pete Ward riding the TTX02 Mavizen race-bike to fourth position. One of the key improvements in terms of machinery is that the event only saw one DNF from MRB Racing Team, which suffered from battery problems on race-day.
Team Tork India's performance has been extremely thrilling and the team which comprises of engineering students from Pune led by Kapil Shelke as the Team Leader and Head System Design, Chandrakant Shelke as the Chief Technical Officer, Krunal Nanavati as Team Manager, Ajit Jain as Chief Mechanical Head and Nishant Kalbhor, Electrical and IT Technician has done the nation proud despite the several odds they encountered. ZigWheels wishes hearty congratulations to Team Tork India for their achievement and wishes them all the best for upcoming races.