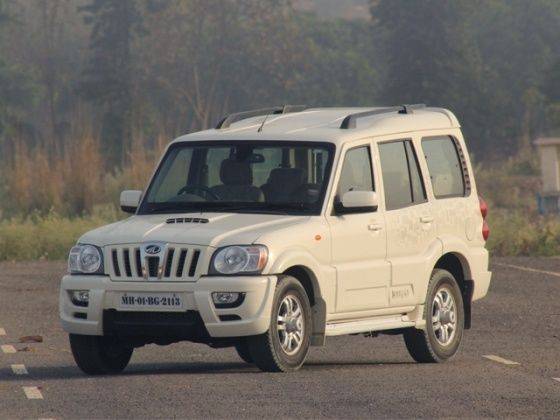 The Scorpio as it turns out still has some sting left in it. As FY13-14 came to a close, the decade old Mahindra workhorse outsold the Ford EcoSport and the Renault Duster to claim the top step of the podium in the SUV battle.
In the last financial year, 50,949 units of the Scorpio rolled off Mahindra dealerships. Compared to this, 46,786 units of the Duster were sold last year and the EcoSport too has sold close to 45,000 units. In fact, the Scorpio sold 5,605 units in March 2014, its best ever sales figure since the SUV's launch.
Commenting on the Scorpio's sales performance, Pravin Shah, Chief Executive, Automotive division, Mahindra and Mahindra said, "The fact that a 12 year old model like the Scorpio is outselling newer competition only proves that inherent strength, versatility and reliability it has to offer reflect in its performance."
It's not just the last month of the financial year that the Scorpio posted strong numbers though. In January, 4413 units were sold and Feb numbers stood at 4,503 units. The Duster sold 3,046 and 3,292 units in January and February 2014 respectively and Ford sold 3,912 and 3,490 units of the EcoSport in the first two months of the year. Renault's Duster has been constantly clocking in the 3-4,000 units per month range despite stiff competition from the EcoSport indicating that the Duster has cemented its place in the compact SUV segment.
The EcoSport was eating into the sedan segment but capacity constraints and a waiting period of as long as 6-8 months on some variants have slowed down the compact SUV's prowess in the car market. Also, the EcoSport was launched only towards the end of June 2013 so it lost a quarter year at the sales charts. Taking an average of the EcoSport's sales, it would have clocked close to 60,000 units given a full year. While the Scorpio leads the Duster, hypothetically, it would come second to the EcoSport.
Regarding the Scorpio's excellent performance, in addition to individual and fleet sales, another factor that needs to be taken into account is the ongoing general elections. While there are no concrete numbers to justify this, it is a known fact that Mahindras like the Scorpio and Bolero are popular campaigning vehicles. The coming year also is an important one as the Scorpio could be the vehicle of choice for the armed forces. Since the middle of 2013, Scorpios have been undergoing summer trials in Rajasthan. Following that, winter trials were slated to be held in Sikkim towards the end of last year. If the Scorpio succeeds (pips the Tata Safari to the contract), it is a plum 30,000 units contract which will be carried out in a phased manner.