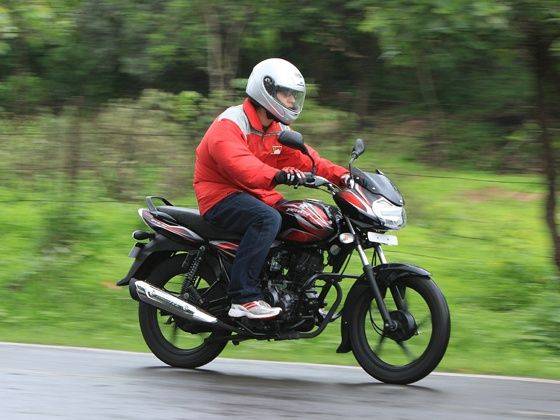 Putting an end to all the rumours about Bajaj Auto exiting the 100cc commuter segment, the Bajaj Discover 100 DTS-Si has raked in solid sales figures for its maker. Crossing a record 1 lakh units in just a span of 50 days, the Discover 100 DTS-Si has bumped up Bajaj Auto's market share from 25% to 34% in this segment. With remarkable fuel efficiency figure and equally impressive price-tag, the Bajaj Discover brand has made an enviable name for itself in the entry level motorcycle market.
The Discover is laden with indigineous technology developed by Bajaj Auto and the results can be seen in the way the bike delivers on every front. With an outstanding overall fuel efficiency figure of 87kmpl and a respectable 14 second fifth gear roll-on time coupled with a decent top whack of 91km/h, the Discover 100 DTS-Si beats its rivals hands down.

ZigWheels has tested this tiny tornado for over 500km and it has held on extremely well in all our tests regardless of how harsh the riding conditions were. One of the most striking improvement on this econo-commuter was its plush ride quality that is so critical in this segment considering it will be spending a lot of time on broken roads in the rural parts of the country.

Also noticeable are the ergonomics of the Discover 100 DTS-Si. An extremely relaxed riding position thanks to the raised handlebars and foot-forward pegs make it an ideal for city commuting. The styling of this bugdet buy is okay and feels a bit under-stated. Although bikini fairing upfront along with stylish five-spoke alloys present the bike with a sophisticated and classy poise. Several factors put together, make it a great all-round package. The Discover 100 is our choice in the Entry Level 100cc Motorcycle category as it offers exceptional value at a throw away price.
Specifications:
Engine: 94.38cc Air-cooled Single
Cylinder
Power: 7.7PS@ 7,500rpm
Torque: 7.85Nm @ 5,000rpm
Transmission: 5-speed

DIMENSIONS
Wheelbase: 1305mm
LxWxH: 2035 x 770 x 1075mm
Weight: 115kg
Performance
0-60 km/h: 7.83seconds
Top speed: 91.29km/h
Fuel efficiency (overall): 87 kmpl
Price:
Bajaj Discover 100 DTS-Si: 40,000 (Ex-showroom, New Delhi)
Cheers:
-Unmatched value for money and fuel economy makes it a superb buy in its class.
-Offers ideal seating posture and plush ride quality coupled with neutral handling.
Sneers:

-Looks a bit under-stated and it could have done with fresh looks.
-The Eurogrip tyres work fine on dry surfaces, but fail to provide good grip in wet conditions.
1st Runner Up:
Hero Honda Splendor Plus
One of the oldest and the most successful motorcycle brand in India today, the Hero Honda Splendor has been the choice of millions in the country. Frugal engine with Honda's long-standing reliability and ease of use have been the key contributors in the Splendor's success and it still remains the king of the commuter hill.
Other Rivals:
Bajaj Platina 100
Bajaj Auto's Platina brand has been around for a quite a while and it is largely popular in the rural sector for its economical nature and affordable price. Also the fact that it comes feature-packed with SnS suspension.
Hero Honda CD Dawn
Hero Honda's success story began with its CD100 motorcycle and with the turn of the new century, Hero Honda re-badged the motorcycle as CD Dawn.
Hero Honda CD Deluxe
The DC Deluxe is Hero Honda's offering for the aspirational buyer looking for efficiency with a slightly better style quotient and ownership pride.
Kanda Mission 100
Pune-based Kanda Motor's offering in the 100cc market, the Mission 100 is a decent effort but lacks in quality.
TVS Max100R
Aimed at the rural market, the TVS Max100R is cheap and practical.
TVS Motors Star City
One of the best 100cc bike to roll out of the TVS factory, the Star City is worth a look if you want a little more stylish bike.
Vibgyor Gallop 100
The Gallop 100 from West Bengal-based Vibgyor firm lacks the finesse of its rivals but offers solid price benefit.
Yamaha Crux
Yamaha India's workhorse that has been religiously serving its maker for a long time, the Crux has shown steady growth in its sales numbers, thanks to its value-for-money and solid build quality.
Yamaha G5
Like the HH CD Deluxe, the Yamaha G5 too is for the buyers who want style without compromising economy or by burning a hole in their pockets. A good effort but failed to impress the masses.
Yamaha Alba
Uber-cool design and loaded with stylish features like five-spoke cast alloy wheels and electric starter, the Yamaha Alba's looks raise quite a few eyebrows.