This BMW x ESMC Electric Sidecar Concept Allows You To Take Your Dog On An Adventure As Well
---
An extra battery pack in the sidecar should extend your adventure too
Not an original BMW concept, it's been designed by Iago Valiño.
Rendering uses inputs from BMW DC vision concept.
Sidecar gets straps to secure extra tools, auxiliary fog lamps.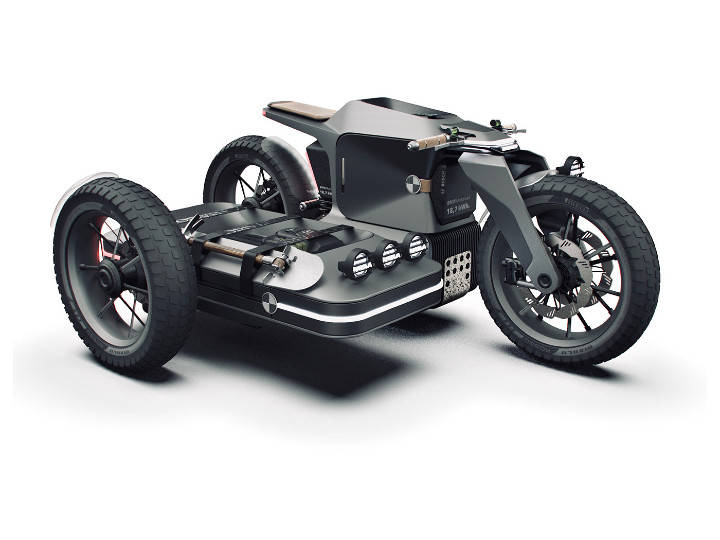 Spanish designer Iago Valiño set about designing a long-range electric motorcycle, when it occurred to him that besides offering extra cargo space, a sidecar can also be used to store an extra battery pack and extend the range. This idea resulted in the x El Solitario Adventure Sidecar Motorcycle Concept, inspired by BMW's touring motorcycles. It shows a futuristic electric motorcycle with an electric motor shaped like BMW's flat-twin engines. This is purely a design study and does not have any real specifications to speak of.
Also read: Is BMW's Electric Motorcycle Closer To Reality?

The adventure theme is courtesy of three dual-purpose tyres with unique thick spoked wheels. Besides the LED lighting strips running across the front of the bike and the sidecar, it gets four PIAA auxiliary fog lights. And while it does get a metal skid plate, the low ground clearance seems suited for a dirt road at best. The sidecar has a shallow loading bay on account of the floor holding an extra battery pack but it gets holding straps to secure tools like a shovel.
Also read: Could This Scooter Concept Be The Replacement To The C Evolution Electric Scooter?

This is a design rendering and there is a lot of scope for improvement. Going by the rendering images, the faux engine compartment looks more suited to place the battery pack as it would allow for a larger unit and also lower the centre of gravity. When it comes to energy conservation, the design's shaft drive setup wouldn't be as efficient as a belt drive. Even the front suspension setup, inspired by the BMW DC Vision concept, seems impractical for riding on anything other than a super smooth road.

While it is highly unlikely that the x El Solitario Adventure Sidecar Motorcycle Concept will see the light of day, we would love it if BMW were to come up with a similar sidecar motorcycle. The Bavarian bikemaker did wow us with the R18 cruiser and something like this would be upping the ante.
Add Your Comments