Indian biking and bikers have come of age over the last decade. The decades long era of tiny 100cc commuters has now made way for one where performance is taking priority over efficiency among a large section of buyers, who perceive bikes less as a mode of transport and more of a lifestyle symbol.
Here then are the top five most performance bikes costing less than Rs 1 lakh.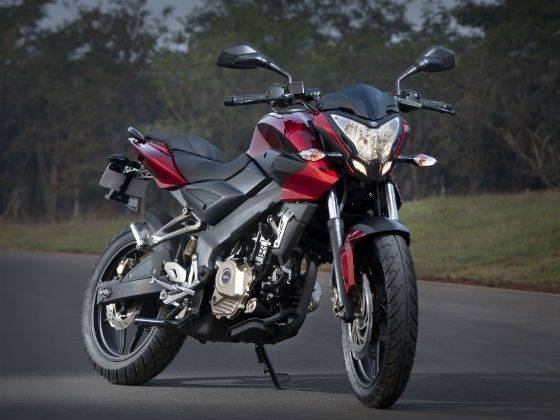 1, Bajaj Pulsar 200NS:
The Bajaj Pulsar almost single-handedly transformed the Indian scenario by giving the masses performance at an affordable price and with the 200NS, Bajaj have managed to take it a notch higher. In its latest incarnation, the Pulsar 200NS makes 23PS of power from its 199.5cc 4-valve engine and attains a top speed of 143km/h. The 200NS is equipped with lot of features which were unheard of in the under Rs one-lakh segment like 6-speed transmission, liquid cooling and triple-spark technology. Visually the NS looks like a butch street bike but it is an able tourer barring the wind blast.
Technical Specifications

Engine

199.5cc, Liquid Cooled, 4-valve, triple spark plug

Power

23.52PS @ 9,500rpm

Torque

18.3Nm @ 8,000rpm

Acceleration: 0-60kmph

4.12sec

Top Speed

142.88 km/h

Fuel Efficiency (overall)

42.85kmpl

Curb Weight

145kg

Price (ex-showroom Delhi)

Rs 85,151
2, Bajaj Pulsar 220 DTS-i:
The Pulsar 220 was the bike which made performance accessible to the masses and with 220F Bajaj continues the Pulsar tradition of performance. The Pulsar 220's mantra of success apart from its pricing and performance is its versatility. One can ride the bike in dense traffic conditions, cruise on the open highways, corner through the twisties with ease and try some stunts if you feel the buzz. Its 220cc engine pumps out an impressive 21PS of power and 19.2Nm of torque but still returns a decent 40km to a litre of fuel, proving that performance and decent efficiency can still go hand in hand.
Technical Specifications

Engine

220cc, Air-Cooled, DTS-i,

Power

21.04PS @ 8,500rpm

Torque

19.12Nm @ 7,000rpm

Acceleration: 0-60kmph

3.7sec

Top Speed:

136km/h

Kerb Weight:

150kg

Fuel Efficiency

40kmpl

Price (ex-showroom Delhi)

Rs 81,411
3, Bajaj Avenger 220 DTS-i
The Avenger has seen a host of engine transplants and currently sports the 220cc engine from the Pulsar 220 DTSi. The Avenger can be credited as the first affordable cruiser bike for the masses. Even though Royal Enfield had introduced the Thunderbird but still not everyone was able to afford it and those who could stayed away due to maintenance issues. The Avenger's USP has been its affordable pricing and ease of maintenance and its dominance in this segment can be gauged from the fact that it doesn't have any sort of competition from any other manufacturer till now. Though priced competitively, the Avenger has not lost any of its charm, a comfortable, stylish and powerful cruiser that doesn't cost a fortune to own and run.
Technical Specifications

Engine

220cc, Air-Cooled, DTS-i,

Power

19.03PS @ 8,400rpm

Torque

17.5Nm @ 7,000rpm

Acceleration: 0-60kmph

4.5sec

Top Speed:

120+km/h

Kerb Weight:

154.5kg

Fuel Efficiency

36kmpl

Price (ex-showroom Delhi)

Rs 76,835
4, Hero MotoCorp Karizma R
From being one of the most technically advanced and expensive bikes to being one of the most affordable performance bikes just shows the tremendous jump the performance segment has made. Even though it's been a longtime since the Karizma was launched, it still remains one of the best touring bikes in the market owing to its superior ergonomics and punchy engine pumping out 17.2PS. The Pulsars might look more value for money in terms of the power and features; still the Karizma is able to hold its ground owing to its superior build quality and reliability.
Technical Specifications

Engine

223cc, Air-Cooled

Power

17PS @ 7,000rpm

Torque

18.35Nm @ 6,000rpm

Acceleration: 0-60kmph

4.4sec

Top Speed:

125km/h (claimed)

Kerb Weight:

150kg

Fuel Efficiency

36kmpl (claimed)

Price (ex-showroom Delhi)

Rs 78,600
5, TVS Apache RTR 180
The Hosur-based two-wheeler manufacturer's latest flagship, the Apache RTR 180 is known for nimble handling and performance. Powered by a high-revving 177.4cc engine producing 17.3PS and features like optional ABS which no other bike in this segment offers, the RTR 180 has many tricks up its sleeve but loses out due a torque deficit.
Technical Specifications

Engine

177.4cc, Air-Cooled

Power

17PS @ 8,500rpm

Torque

15.5Nm @ 6,500rpm

Acceleration: 0-60kmph

4.4sec

Top Speed:

120km/h

Kerb Weight:

139kg

Fuel Efficiency

47kmpl

Price (ex-showroom Delhi)

Rs 73,365 / ABS-spec: Rs 84,180