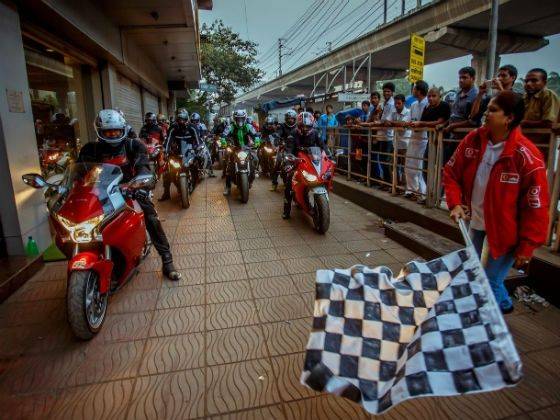 There are many ways to spend a weekend; some prefer going to a serene location to unwind, others ride to alleviate themselves of the stress from everyday work life. But what if you get to experience both in a single outing…sounds interesting, eh? When I was asked to cover the 'Super Bike Ride' organised by Honda, I was thrilled to say the least. There were two reasons for it; first being the destination of the ride, which was Sula Vineyards in Nashik, around 185km from Mumbai. Secondly, I was ecstatic at being able to ride after a prolonged period as I hadn't ridden much since my trip to Leh in July.
I reached the Honda New Wing World showroom by 5:30am and to my surprise most of the other riders were present at the showroom before time, which was a pleasant sign. The 'Super bike Ride' was a unique ride organised by Honda for its superbike owners and 25 such enthusiasts from across Mumbai had assembled with their pride and glory. We were given a briefing about the route, the various pit-stop spots and our destination. Once the briefing was over all the riders began gearing up for the ride. It was an aural Opera for a two-wheeler enthusiast as 25 Japanese in-line fours underneath the CB1000R and CBR1000RR came to life and I just savoured the moment aboard the CBR 250R, my ride for the day.
The superbikes were struggling to cope with the pothole-infested urban roads but once on a highway it was an altogether different ball game. With stretches of open tarmac in their vision every rider whacked open their throttle and we were soon covering distances at a pretty healthy pace. But after sometime it began to get monotonous riding on arrow straight roads and as boredom was about to set in we reached Kasara ghat. I hadn't ridden before on this ghat and was relishing every corner with the nimble handling dynamics of the 250R and to add more excitement there was the beautiful exhaust note of the superbikes in the background. I had assumed that the CBR 250R would lag behind in the company of the big boys owing to its power deficit. But to my surprise I was able to maintain pace with the superbikes and never were they away from my field of vision.
Once past Kasara ghat we reached Manas Resort, which was our breakfast halt and I got an opportunity to interact with fellow riders. Once breakfast was done we headed to Sula Vineyard which was a short 40km trip from the resort. The entry to the vineyards was impressive as we made our way past a narrow lane with grapevines on either side. The view from the deck-restaurant was nothing short of stunning, as we had the vineyards below and the Gangapuram Dam in the background. Honda as a manufacturer has always encouraged safety and at the venue had organised a special rider gymkhana to give the bikers tips on safe riding.
After this programme we had lunch and every one was engrossed in long chats and debates on motorcycles; well what else do you except when so many two-wheeler enthusiasts gather under the same roof! After a hearty meal, it was time to head back to Mumbai and to add more excitement, the rain Gods opened up and it started pouring heavily. Because of the rain we slowed down our pace and used this opportunity to tank up the bikes. The rains stopped as we approached Kasara ghat and this meant we can again savour the tight corners and flowing hairpins on offer. We took one final break on the outskirts of Thane from where our pack was split as the owners made their way home while I headed back towards the showroom.
One of the things that stood out about this ride was the importance participants held for safe riding -- each and every rider was geared up properly from head to toe. Normally most of the folks who own these superbikes seldom take it out for a ride and for them it's mostly an expensive toy to show off but this pack of Honda owners were miles apart from them. Never did they show any arrogance of being owners to these powerful machines and were, in fact, warm and amiable. Each rider gave way to a fellow biker who was faster than him no matter what machine he was riding, which according to me is a real mark of a biker and it was a joy for me to ride with such motorcycle enthusiasts.
"Riders thrive by heading off to unchartered destinations, and I am not any different. For me, riding to new destinations is exciting as it promises me an unparalleled experience of driving on unfamiliar roads, leading to unknown places and with my CBR 1000RR I get to live these very moments. Honda also aspires consumers to propagate values such as safe riding" said Vinayak Chavan, a CBR1000RR – HRC owner.