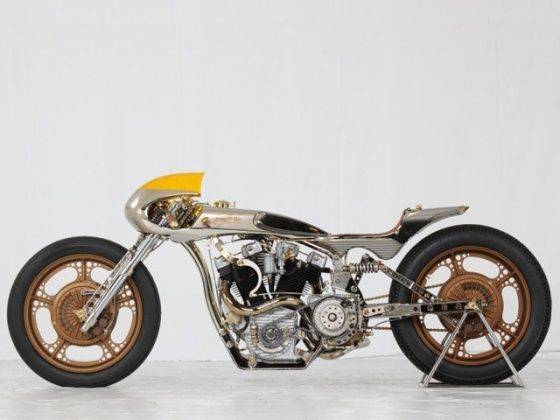 Freestyle - 1st
PainTTless - Andreas Bergerforth, Thunderbike (www.thunderbike.de)
Germany
Pics: Dirk 'Pixeleye' Behlau
Summing this bike up in sheer lack of emotion as a 1984 1000cc Harley-Davidson Ironhead Sportster engine in a custom frame and bodywork would be cardinal sin because in concocting the perfect marriage between engineering, art and fiction, PainTTless is enough to make Edison, da Vinci and Asimov proud in one go. Truth of the matter is that you can't really describe this bike in words. You could try, but then you'd notice another magnificent detail and all that talk will just float away. It took 8 months for Andreas Bergerforth and his team at Thunderbike to create this absolute rolling sculpture of speechlessness that is now called 'PainTTless' and in doing so, the men from Hamminkeln in Germany also created a big piece of custom bike building history. Not only have they added Germany to a list of winners that has builders from five other countries who've won the previous 8 Championships, but they are also the first authorised Harley-Davidson dealer to have taken top honours in the Freestyle class.
After spending hours staring at PainTTless and soaking in all the grand attention to detail it just reaffirms the thought that undoubtedly everyone including the judges and fellow competitors had – there could be no other creation that was worthy enough for the World Title this year. Beyond the 998cc Ironhead Sportster engine, the Amal Monoblock carb and the WLA 750 transmission lays a sculptor's wet dream. Every single part of the motorcycle has been crafted to perfection so much so that even whatever piping and wiring is visible could make it to the hall of fame in an art museum. The weld seams are immaculate and of course the cherry on top of that magnificient meal of metal is what gives this bike its name. There is no paint – what you see is an immaculate gloss finish in polished nickel and it couldn't get more apt than that because when you have such high detail all the way from the streamlined gas tank to the knurled gear knob and even the smallest springs, why hide it all with a coat of paint!
9th annual AMD World Championship of Custom Bike Building : Class Winners!
Other freestyle – 600
Pics: Onno Wieringa and Frank Sander
From retro to modern, twos and threes
While there was no doubt that PainTTless was the hands down winner, there was some tough competition in the Freestyle class for the best of the rest. Eventually, American up-and-comer Jeremy Cupp beat everyone else to the runner's up spot with 'Old Black' – a hill climber in green and black that sends you back to a time when living free actually felt the real deal. With sparse use of dark tan leather for the seat and a miniscule mud flap at the rear, Old Black also featured a chunky steel chain around its rear tyre for that extra grip going uphill through dirt. The bike is based on a 1976 Harley-Davidson Ironhead Sportster engine mounted in a custom-made rigid frame. Following close on Old Black's tyre treads was the retro board track racer from Abnormal Cycles christened 'Speed Demon'. The bike uses a 1919 74 cubic-inch Harley JD engine nestled in a VL frame from 1930.The bare bones hard tail racer turned out in a spectacular dark brown runs on ribbed Firestone rubber and features absolutely minimal bodywork – just like a proper board track racer should be!
In stark contrast to those awesome tributes to motorcycling's glorious past, fourth place winner in the Freestyle class was Kreater Custom Motorcycles' '18' – a bike that looks like it was left behind by extra terrestrials on one of their reconnaissance missions. Modern as can be, it uses a 96-inch Twin Cam engine in a hardtail custom frame that screams steam punk from every nut and bolt. Darth Vader would have been proud of this one! While fifth placed 'Gryphon', 'Tantalizer' in sixth and 'Bad Influence' in seventh were more or less straight from current-gen custom motorcycle building text books, it turned out to be quite the year for the trikes with 'Vitalogy' taking eighth and 'RK Thing' taking ninth.
Vitalogy is the creation of George Tchor who also took fourth place here with '18' collaborating with Kreater Customs and is powered by a souped up 124 cubic-inch Harley-Davidson TCB engine courtesy Zipper's Performance. This creation of metal and rivets managed to pip the second trike in the top ten – RK Thing. The most unique feature about this three-wheeled monster is probably the fact that it isn't running a Harley-Davidson motor. In fact, for RK Thing, creator Rafik Kaissi chose to go the Italian way and plonked a 1000cc Aprilia engine in a very curvy trellis frame. While the eventual turn out of the bike makes it look more spider that sport-trike, the bike has some very intriguing details guaranteed to get show-goers hearts racing.
The top ten was rounded off by Jon Shipley's 'Whiskey Bent' and if Jack Daniel's is your poison then you've got to sample this one! With styling cues straight out of a Wild West tavern, this custom used the third Ironhead Sportster engine in the list – this time a 1977 model. A conventional saddle made way for the bar-stool seat while the oil tank can now age some whiskey too if the situation demands so.
A massive section rear tyre completed the look as Whiskey Bent must have given quite a few visitors at Sturgis this year faint day dreams about their own mobile mini-bar machine! All in all, the show this year most definitely gave some of the best designs we've seen yet. But with PainTTless raising the bar by a huge margin, participants in the 2013 and 10th AMD World Championship are going to have quite a tough time topping this year's winners in terms of pure skill and vision.
9th annual AMD World Championship of Custom Bike Building : Class Winners!
2nd
Old Black
Jeremy Cupp, LC Fabrications
USA
3rd
Speed-Demon
Sam Reali, Abnormal Cycles
Italy
4th
18
George Tchor, Kreater Custom Motorcycles
Canada
5th
Gryphon
Claes Warefors & KDK Performance
Sweden
6th
Tantalizer
Kenny Williams, KW Customs
USA
7th
Bad Influence
Larry Moore, Moore Customs
USA
8th
Vitalogy
George Tchor, Kreater Custom Motorcycles
Canada
9th
RK Thing
Rafik Kaissi, RK Concepts
USA
10th
Whiskey Bent
Jon Shipley, Hoosier Daddy Choppers
USA
ModHarley – 300
It's all in the details!
Custom bike building wouldn't really have the charm that it does if it were not for the scores of personalised Harley-Davidsons all over the globe and despite the fact that H-D is as American that a bike can get, there are custom builders in Europe that are showing the Yanks a thing or two. So it comes as no surprise then that top honours in the modified Harley-Davidson class went to Boccin Custom Cycles from Italy for 'Knuckle 46'. Lorenzo Solighetto's creation uses a 1946 Knucklehead engine and frame painted ina bright orange that really makes it stand out in a crowd. At first glance you don't really see anything special about the bike's design but look closer and you'll see all the etched panels on the engine and that's the real beauty of this creation – understated details on a loud paintjob!
Speaking of understated, second placed 'Snow Racer' was exactly that especially with its plain white paint job. But mod Harleys couldn't get any more modern than this one thanks to some very neatly placed parts from the current generation of motorcycling such as that very tiny Beringer inboard disc brakes and the gas charged shock absorber with its complex linkages to damp the leather seat. The entire package was highlighted by the use of a 1936 VLH engine using 1946 U heads in combination with a German made NH Powerprimary belt drive and a Baker 6-into-4 gearbox within a rigid frame. Moving from retro to modern was third placed 'Gun Baby' by Joe Cooper which is essentially a 1996 XL 883 that resurrects a brand that was loved but no longer exists. Yes, that's a Buell front end, replete with the wheels and brakes from the Harley-owned brand and a mesmerising acid etched finish to the minimalist bodywork.
Modified Harley-Davidson
1st
Knuckle 46
Lorenzo Solighetto, Boccin Custom Cycles
Italy
2nd
Snow Racer
Uwe Ehinger, Ehinger Kraftrad
Germany
3rd
Gun Baby
Joe Cooper, Cooper Smithing Co
USA
9th annual AMD World Championship of Custom Bike Building : Class Winners!
Performance – 350
All tied up!
It's hard to say who really won the Performance class this year thanks to a three-way tie, but thankfully there are procedures in place for such a scenario! The final result had to be revisited based on a judging preference count-back and when all the dust from the performance battles had settled, it was AFT Customs that took the win – that too second year in a row! But the fascinating story of 'Halia' – the Honda VT 750 BR engined bike that took the top spot doesn't end there because this motorcycle didn't roll out from the regular bunch of AFT Customs builders. Halia was actually crafted by the AFT Girls – a group of female motorcycle enthusiasts and part-time models that have honed their bike building skills at Jim Guiffra's custom bike company and judging by the way Halia looks – they're super awesome at what they do! Halia is a street tracker that gets a huge dose of matt silver, black and red accents, all in perfect proportions and a frame that has been drilled at every bit that can be drilled to save weight.
A close second was Steve Garn's '9605' which was basically a race-prepped Honda CB 350 from 1971. The bike isn't just an awesome machine to look at with its bright orange paintjob with a black frame and bare metal engine. While we're sure that conceiving and building the bike was a task and a half already, coming up with a name for the bike must not have taken too long. 9605 may have been bought in parts for only $1800 (Rs 96,156), but going by the various class mile records set by it, the bike's race number sure makes for a fitting name! The third bike that fell in the initial tie for first place in the Performance class was 'BTR GP' – simply a race-spec motorcycle built around a Harley-Davidson Twin Cam 88 engine mated to a BTR 5 speed drivetrain nestled in a trellis frame with an aluminum swingarm and an inverted Showa front-end. The brains behind the bike is Curt Winter – an engineer at Big Twin Performance and that's enough to convince us that this bike goes just the way it looks!
Performance
1st
Halia
AFT Girls, AFT Customs
USA
2nd
9605
Steve Garn, BREW Bikes
USA
3rd
BTR GP
Curt Winter, BTRmoto
USA
9th annual AMD World Championship of Custom Bike Building : Class Winners!
Production – 350
Bobbers and Board trackers!
Darwin Motorcycles was the second builder to retain their class Championship for a second year in a row with Dar Holdsworth's 'Rocketeer F3' – a cross between a roadster and a street bobber based on a 103 inch S&S Shovelhead 45-degree air-cooled V-twin. Turned out in a brilliant gloss aluminum finish for the bodywork on a blue frame, Rocketeer F3 features a 'Mean Streets' front end, Baker 6-speed transmission, HDW wheels and a Beringer dual-hub brake setup for the front and a '3 Guyz' sprocket brake for the rear. The single seat uses some very innovative dampers and a hugely attractive set of straight pipes that end in a megaphone-ish exhaust giving the Rocketeer F3 the first place in the Production class.
Coming in second in the Production class was 'Sturgis Special' – an off-white board track racer using a 95 cubic inch S&S Cycle Knucklehead-style engine on a proprietary custom frame with massive 26-inch PM wheels. The wheels themselves are a thing of beauty with their thin rims and flower petal spoke design in a stunning black finish. The contrast of the bike's bodywork and frame with black and chrome touches gives it a very old school aura mixing it up with a very modern low-profile-rubber stance. Standing on the last step of the proverbial podium was another creation that harked back to yesteryear racing days – a theme that seems to be the formula for success in the custom bike building world. 'Hendee Deviant' is yet another iteration of a board track racer and featuring builder Mike Tomas' proprietary 84 cubic inch air-cooled V-twin engineand a single loop frame.
The 9th edition of the AMD World Championship of Bike Building turned out to be grander than ever and in effect a fitting precursor to the tenth edition of the event to be held at the Big Bike Europe expo in Germany next year. Looking back at the nine years gone by, 'Hendee Deviant' builder Mike Tomas was also felicitated with a special appreciation award by the event's organisers for being the only engineer to have participated in all 9 years that the Championship has been running. If all that is anything to go by, you know that the ten-year event is going to be a cracker for sure!
Production
1st
Rocketeer F3
Dar Holdsworth, Darwin Motorcycles
USA
2nd
Sturgis Special
T.D. Ward, Rods & Rides Motorcycle Co
USA
3rd
Hendee Deviant
Mike Tomas, Kiwi Indian Motorcycles
USA
9th annual AMD World Championship of Custom Bike Building : Class Winners!