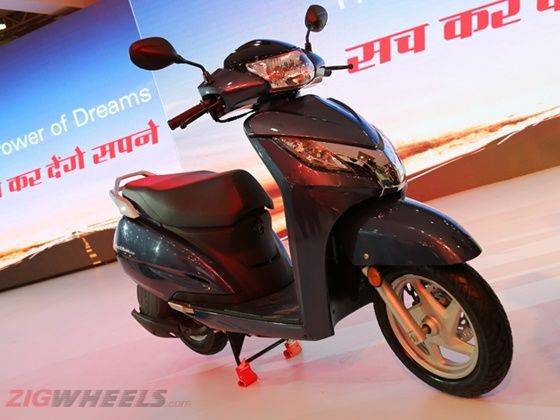 We've been talking about a bigger scooter from Honda Motorcycle and Scooter India (HMSI) for what seems like forever now, and finally the wraps were pulled off from the much awaited Activa 125 at the recently held Auto Expo 2014, which comes with a spanking new 125cc engine. It has all the visual traits you would expect from a model rolling out of the Honda stable. A well sculpted metal body which despite being subtle in styling is fairly appealing for its practicality and sturdiness.
The highlight of the front design is it's puffed out front panel which holds a chrome wing-like strip, a pair of clear lens indicator and a contrasting black crown sitting above the headlight, just like the one found on Hero Motocorp's Maestro. The other inspiration from Maestro is the chunky rear grabrail. The Acitva 125 also has a long and flat seat and a comfortable straight-back riding position, ideal for a city work horse.
The basic Activa is the best selling scooter in our country, popular for its efficient 110cc engine, no-nonsense design, low maintenance and excellent resale value. The other 110cc offering is the more spunky Dio aimed squarely at the younger lot of buyer. Now with their first 125cc scooter in India, the company hopes to keep Indian scooter buyers involved and excited about Honda products.
Moreover, the Activa 125 gives the Japanese auto major entry into the upper rung of scooters which till now was dominated by the Suzuki Access and Swish, with Mahindra trying hard to catching up with their Duro and Rodeo. Though the segment boasts of a bigger and more powerful engine, on paper the difference in power output of 110cc and 125cc motor is very marginal. For instance, Suzuki recently unveiled its debut 110ccc scooter (conspicuously named - Let's) which uses a 112.8cc engine that produces 8.7PS compared to its elder sibling Swish which makes 8.58PS.
Comparatively, the new Activa's 125cc four-stroke, force air-cooled, single-cylinder engine, with variator-controlled automatic transmission churns out maximum power of 8.7PS and 10Nm of peak torque, which is slightly more than Activa 110's 8.1PS and 8.74Nm. However, we expect the torque spread to be better on Activa 125 which would give it an edge over the smaller Honda, in terms of rideability and quicker acceleration. The engine also incorporates the new Honda Eco Technology, which essentially uses reduced-weight and optimised parts to reduce friction and boost mileage. As most Honda engines, the new 125cc motor is expected to be extremely smooth and low levels of NVH.
There is no shortage of equipments here, as the scooter boasts of a digital instrument console with odo, trip and even a clock; viscous air filter and maintenance free battery. It comes with smart 5-spoke alloy wheels, an optional 190mm front disc, which along with Honda's Combi-Brake should offer strong biting power. A larger 12-inch wheel in front and 10-inch ones on the rear (front: 90/90-12 54J, rear: 90/100-10 53J), telescopic front forks and coil spring at the back, the Activa 125 seems better prepared for pothole infested roads of our country and promises good ride quality.
The proportions are impressive too. It is 1814mm long, 704mm wide and 1151mm high making the Activa 125 not just taller but also larger than the regular Activa. In fact its 1260mm wheelbase is the longest in Honda's Indian line-up of scooters.
The all-new Activa 125 is scheduled to be launched around April-May this year. Honda will be pricing the new scooter competitive but it will demand a premium over the 110cc Activa which retails at around Rs 47,596 (ex-showroom Delhi). Our guess is that the new scooter would cost around Rs 57,500 (ex-showroom Delhi), as we wait for Honda to officially announce the price.