ViaTerra Velox: KTM Saddlebag Review
---
We put ViaTerra's latest luggage solution for KTM motorcycles to test to find out how it really is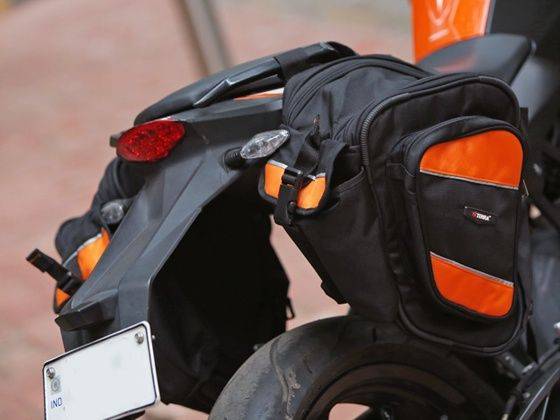 Over the past few years motorcycle luggage solutions have come a long way. From a time when motorcyclists are limited for options they are now spoilt for choice. ViaTerra has been extremely thoughtful and creative with the kind of luggage solutions on offer for motorcycling enthusiasts. The Claw and the Fly camera tank bag are testimony for the same. The Secunderabad-based equipment manufacturer has now introduced a new saddle bag especially for KTM motorcycles – the Velox.
The Velox too, like all other ViaTerra products is first-rate in terms of quality. A sturdily built bag, the Velox makes use of Denier ULY coated outer fabric that can easily take any sort of beating that you put it through. While its puny size might be questionable, the Denier PU coated inner lining ensures that it can take a fair amount of load. The YKK zippers and chain are of good quality too. Motorcyclists love their machines more than anything else and to ensure that the bike doesn't suffer any scratches due to friction, ViaTerra has cushioned the Velox with foam padding on all sides.
Made especially for KTM motorcycles, the Velox's three-point anchoring system makes it easy to mount. We tried it out in the KTM 200 Duke and it fit quite snugly. But the beauty of the bags lies in the fact that you can even use it as a single unit. So if you have local errands to run and want a small saddle bag that can store some luggage for you, then the Velox is for you. The Velox is sorted even in its design and doesn't really brush against any part of the bike. It also comes with a protective rainproof cover.
At Rs 2,900 it is aptly priced too but then we thought that at 36 litres the storage capacity is in fact limited for long rides and you might just have to keep a check on the amount of stuff you want to take with you.