Tracking The Tiger by Bob Rupani: Book Review
Nov 27, 2014
Views : 16011
---
Spectacular photography and incredible attention to detail are what best describes Bob Rupani's latest book, Tracking The Tiger.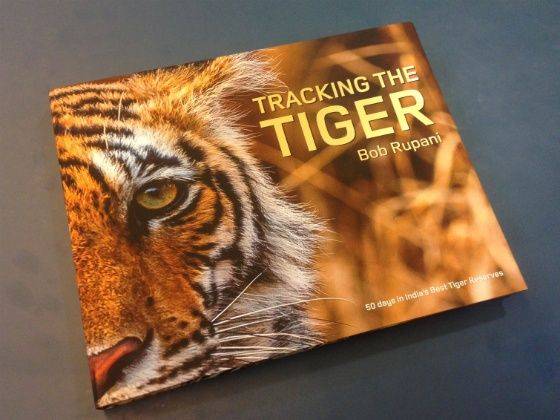 There are hundreds of wildlife books in the market that talk about India's great national parks and of course, the Tiger. Although most are done by people who have spent their entire life amongst the diverse flora and fauna that our vast country has to offer, there are only a handful of books that one can buy that looks at the world from a layman or an enthusiast's perspective. Tracking The Tiger by Bob Rupani is probably one of the finest examples of the latter that we have seen in recent years.
With a foreward by legendary wildlife campaigner, author and actress Virginia McKenna, known globally as the spokesperson of the Born Free foundation, this book takes you straight into an enthusiasts journey across the best national parks and reserves in the country. The author, in collaboration with Land Rover India toured national reserves like Corbett, Bandipur, Pench, Kaziranga, Ranthambore and Sunderbans along with lesser known areas of Nagarhole, Kanha, Tadoba, Satpura and Navegaon to bring an indepth showcase of the tiger's natural habitat. What does set this book particularly apart is the fact that every other indigenous species of mammal, bird or reptile along with other natural treasures like unique flowers or tress have been given as much importance as the revered tiger.
What is essentially a detailed roadbook for the wildlife enthusiast, Tracking the Tiger offers incredible insight on what one must and more importantly must not be doing while in these incredible locations. Bob's intricate and involving sense of storytelling is complimented by Dhritiman Mukherjee's mesmerising wildlife photography. Our particular favourites include a stunning image of a rather inquisitive monitor lizard and a pack of wild elephants in Corbett, a family of tigers at Kanha, the baby monkeys of Pench and of course, the stunning male tiger with stretched jaws at Tadoba.
Tracking The Tiger is not just a good book, it is an essential addition for those who enjoy the great outdoors. The fact that Bob Rupani undertook all his journeys in Land Rovers, ranging from the Freelander II to the relatively new Range Rover Sport also attracts the automotive enthusiasts in us, making this book an absolute future classic.