RST Tractech Evo riding boots review
Mar 20, 2015
Views : 17734
---
We review the RST Tractech Evo motorcycle riding boots which have been priced at Rs 18,400 in India and is available with Baycity Speed Shop (BSS) in Mumbai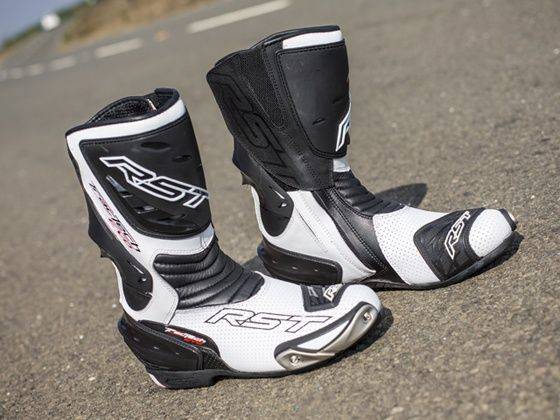 When one thinks of riding gear, the first thing you picture is a helmet, jacket or gloves. While all the above are vital elements and should be part ones riding gear kit, the most commonly ignored item are the riding boots. Most bikers try to cut corners by using normal boots, while stuff like army boots do provide a bit of protection, it doesn't stand a chance with respect to the purpose-built riding boots. One of the main reasons for bikers not buying riding boots is pricing. Good quality riding boots normally retail for more than Rs 15,000 which makes it out of reach for many motorcyclists. But taking into consideration the protection that these riding boots provide and the fact that they can be long lasting, the money invested does make sense.
For bikers looking out for a good riding boot without compromising on quality, well the RST Tractec Evo is a great option. The RST Tractech Evo is crafted from a special 2mm microfibre with PU coating; this enables the material to be nearly 70 per cent lighter than boots crafted from leather. Apart from being lighter, the material provides almost equal tear resistant as offered by leather. The material is perforated also providing good ventilation and given the sultry heat of Mumbai, it's really helpful. The RST Tractech Evo features moulded TPU (thermoplastic polyurethane) shin, ankle and heel protection. TPU is resistant to oil, grease and abrasion thereby providing longer shelf life and protection in the event of a crash. The boots also sport replaceable metal toe sliders instead of plastic ones as found on many boots in this price point. The sole has been crafted from anti-slip rubber and the boot features a gear change toe pad so that the boots don't get worn-out easily. Talking build quality, the RST boots are CE certified and is on par with more expensive mid-range riding boots.
However the boots did take a long time to break in and the initial rides were a bit irksome owing to this factor. Also I found the width of the boots to be on the narrower side so it's better to try the boots before purchasing or go for a size larger to be on the safer side. The zip and Velcro are of good quality and the boot gets securely wrapped around one's feet.
Overall the RST Tractech Evo is a good option for someone looking for a good quality riding boots at a decent price point. The fact that they look visually appealing hikes its desirability quotient a notch higher. I personally have been using the RST Tractech boots for around a year and have been a happy customer and few of my colleagues have also brought it. The RST Tractech Evo is priced at Rs 18,400 in India and at this pricing there are some other good options available. But the RST riding boots offers good protection and is better suited for India due to the perforated construction. The RST Tractech Evo riding boots are available on sale with Baycity Speed Shop (BSS) which is based in Mumbai. Apart from riding boots, BSS also stocks riding jackets, gloves, pants etc. from RST.