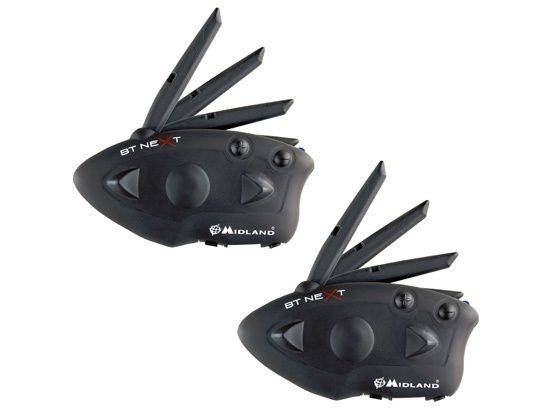 One of the biggest tasks when riding in a group is communicating with fellow riders. While some groups follow hand signals for indications, on many occasions, they are not enough to convey the message with clarity. The easiest solution to overcome the miscommunication glitch when riding in groups is the Midlands BT Dual Pack Bluetooth communication system. The system operates via Bluetooth version 2.1 technology and allows the rider to communicate with upto three more riders within a maximum distance of 1.6km. The Dual Pack comes with two primary units both of which can be paired with two additional Bluetooth intercom devices from any other brand. For the solo rider, there is always the Single Pack.
Installing the unit is absolutely easy and it comes with two mounting options for the helmet – a bi-adhesive strip mount as well as a clamp mount. There are two ultra flat stereo speakers per device which need to be installed inside the helmet with the help of a Velcro/adhesive strip along with a similar attachment for the microphone to be fitted on the inside of the helmet. The system is neatly designed and there is no wiring that causes any kind of hindrance once installed correctly inside the helmet.
Built for all-weather performance, the overall built quality on the unit is top notch and boasts good attention to detail, for instance the buttons on the unit are large and chunky providing ease of operation even with the gloves on. Activation of the unit can be done via voice activation (VOX) or manually by pressing the center button. If no conversation is underway, the unit will go off to sleep mode after 20 seconds have passed. To resume the system, simply start talking or press the center button again so you can communicate with the paired devices. Offering 10 hours of talk time on single charge, this latest offering from Midlands has more aces up its sleeve.
The unit also has built-in FM radio while it can also be paired with Bluetooth compatible GPS units, MP3 players and mobile phones. Additionally, there is also an AUX jack to hardwire for stereo audio input from MP3 players. Priced at Rs. 19,998, it might sound a bit steep, but for groups who ride regularly it's an investment that ensures safety as returns.