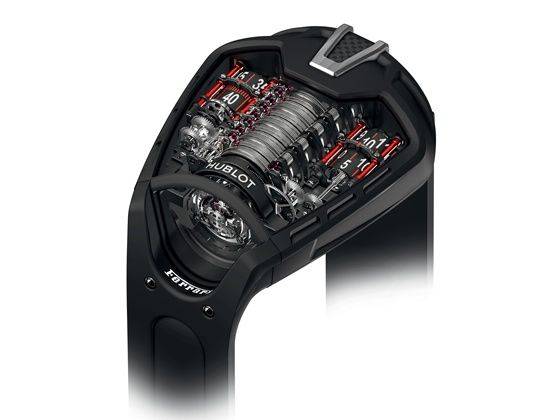 Swiss luxury watch maker Hublot has unveiled its latest state-of-the art offering, the MP-05 LaFerrari, a watch inspired by the latest sports car introduced by the Italian auto giant. The swanky multi-functional watch features the best of technology including a record 637 components packed together in a sophisticated sapphire shaped design. According to Hublot, the watch is not only a tribute to the car LaFerrari, but also a test to fit in the maximum technological components in a compact design.
Developed alongside the car LaFerrari, every component in the watch draws inspiration from the supercar. The watch features a tourbillion containing 11 barrels which provide a power reserve of 50 days. In terms of design its sapphire crystal shape reminisces the outline of the car with an open case back made of black PVD titanium, fastened with a black rubber strap.
The display is unusual compared to any other watch, with the time being displayed on aluminum cylinders on the right, and the power reserve displayed on the left cylinders, all interconnected to the 11 barrels which run down like a spine through the center of the timepiece. Knowing the number of complex components it features, reading the display off the cylinders is made easier with sophisticated after-glow pigments which highlight the numbers on the dial. Paying tribute to Ferrari's gorgeous best, this watch will have only 50 of its kind being offered.
So far Hublot has not disclosed an actual price for the very exclusive piece, but the owner of each of these limited editions watches will take them away in the most sophisticated casing, wrapped in Schedoni leather and carbon fibre including specific tools to unwind the watch. For die-hard Ferrari fans and watch geeks, this one is an offering by Hublot worth owning.
Also Read: Ferrari unveils its Enzo successor - LaFerrari at Geneva