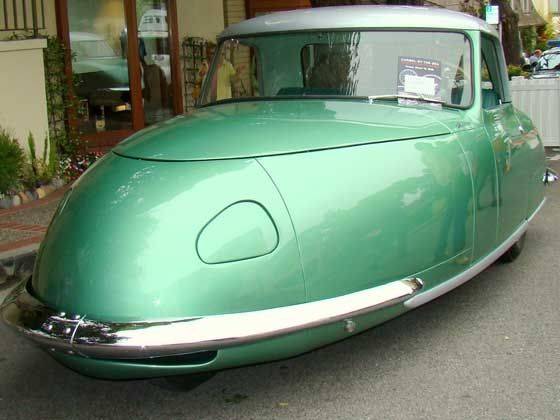 Davis Devan:
A three-wheeler that looks more like a boat on wheels than a conventional automobile, 13 of these absolutely unique cars were produced. The two-door design incorporates a 4-cylinder 60PS engine.
BMW Isetta:
Between 1956 and 1962, German car manufacturer BMW produced the Isetta, based on an Italian design created by a refrigerator manufacturing company. This miniscule single-seater boasted a fridge-type outward opening front end, so the car had to be literally entered through the front! This car came in multiple variations across this six-year period, including 3- and 4-wheeler variants, and sold a whopping 161,360 units. The Isetta boasted a 298cc single-cylinder 4-stroke engine, along with one the most idiosyncratic designs ever.
Peel P-50:
Another design sporting three wheels, the Peel P-50 has the exclusive distinction of being the world's smallest production car. Equipped with a DKW 49cc 4.2PS engine, this car barely accommodates a single person, and doesn't even have a reverse gear! So if you wish to go backwards, the only way to accomplish this is by getting out and physically hauling the car in the desired direction.
Stout Scarab:
Left of field designs though aren't unique to small cars as the Stout Scarab clearly illustrates. Created at the Stout Motor Company in the US in the 1930s, this vehicle is cited as the first ever mass produced mini van in the world. It's difficult to believe that every soccer mom's favourite ride evolved from this specimen, but this car did come furnished with some intriguing features, such as portable table, and a seat that could swivel around to face the back. It ran on a Ford flathead V8 engine mounted in the rear.
Citroen 2 CV Cogolin:
Named after the French city where it was utilised, this absolutely astounding piece of engineering was the brainchild of a French fireman. It is said that looks can be deceptive, but in this instance that doesn't hold true as the Cogolin is indeed the front ends of two Citroen 2 CVs welded through the middle, and yes, the car can be driven as normal in either direction! The purpose of this design was to assist the firemen of the town of Cogolin navigate through treacherous situations with relative ease.
Weird and wonderful, there's no other way to describe these cars, and their eccentric characteristics will ensure that their names will forever be etched in automotive folklore.