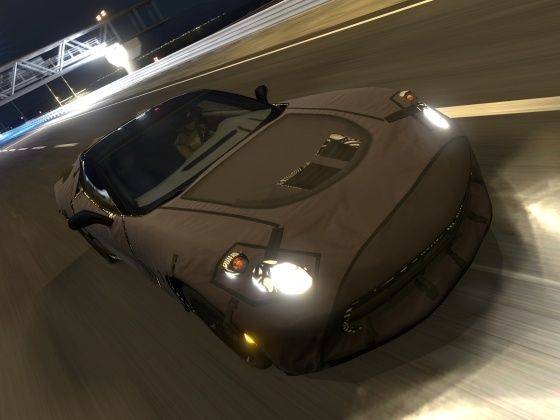 When fans fire up their PlayStation3 (PS3) systems they'll have a chance to become part of Corvette history. Chevrolet and Sony Computer Entertainment America, LLC (SCEA) are giving gamers a first-of-its-kind driving experience by offering a camouflaged Corvette C7 Test Prototype, to be debuted in January 2013, as a vehicle download in the critically acclaimed racing game Gran Turismo 5.

Chevrolet and Polyphony Digital Inc, the developers of the award-winning Gran Turismo franchise, collaborated to provide an authentic driving experience in a seventh-generation Corvette prototype currently available to only a handful of people in the world.

During the creation of the virtual Corvette prototype, careful attention was paid to the tiniest details from the creases and wrinkles in the soft camouflage used to disguise the new design to specific driving characteristics that are currently being tuned and refined ahead of the vehicle's official debut in January.

"Until now, only the most skilled drivers on the Corvette team have been authorised to push the test prototypes to the limits on some of the most challenging track surfaces in the world," said Chris Perry, vice president of Chevrolet Global Marketing. "Through this unique collaboration with Gran Turismo, Chevrolet is able, for the first time, to give performance car enthusiasts access to such an exclusive driving experience."
All six previous generations of the Corvette have been available to players of the Gran Turismo series since the game's inception and the Chevrolet nameplate remains one of the most popular vehicles to race. The camouflaged Corvette C7 Test Prototype is immediately available for download through the PlayStation Store from the PlayStation3 at no additional cost. It can be driven on some of the world's renowned race tracks, including Daytona International Speedway and the infamous Nurburgring – one of the track surfaces used in testing to evaluate the new Corvette's driving dynamics.

"Gran Turismo has had many firsts and we're excited to partner with Chevrolet for yet another – bringing the first-ever Chevrolet prototype vehicle into a racing game," said Kazunori Yamauchi, president of Polyphony Digital, Inc. "As car enthusiasts, we're thrilled to give fans this extraordinary level of access to the seventh generation Corvette that otherwise would not be possible."

The Gran Turismo series has sold more than 67 million games since its inception and remains the highest selling PlayStation-exclusive franchise of all time.
Also Read: 2014 Corvette engine unravelled