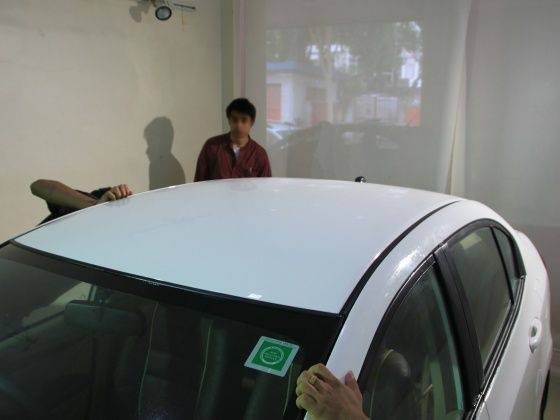 Dents, dings and scratches are something that every car lover is scared of, but the fact remains that it is an inevitable part of our driving life and no matter how much care you take, there is always some moron who will give you this pain. While getting a dent or a scratch is painful enough what is even more painful is the painting process to restore your car to its original state. The car has to be sanded, painted and primed. Then, it is actually painted. Just like other processes, the quality of the paint can make a huge difference. The vehicle is usually out of commission for at least two weeks. And then there is the cost. The better the paint quality means bigger the hole in your wallet. This is where the 3M Wrap films come in.
Thanks to its variety of finishes, textures and colors, which help users, create a cool and distinctive look. 3M wrap film 1080 allows the car user to wrap different parts or change the complete look of the car with a full body wrap. 3M Wrap Film 1080 comes with 3M developed Controltac and Comply Technologies. Controltac Technology helps fine tune application by enabling repositioning with pressure activated adhesive backing. Comply Technology provides superfine air release channels on the reverse of the film that ensure corner-to-corner bubble free application.
3M Wrap Film 1080 is a dual cast film which is very easy to apply thanks to above features. The cast film give it's the advantage of conformability, helping to wrap any complex curves on the car. Its 60 inch width means that users can wrap almost any section of a vehicle without seams, and the film remains removable for up to three years, making it easy to change looks over a period of time.
Colours like Matte orange , matte yellow , matte metallic blue are getting extremely popular and if you spot a car in some of these colors its most likely to be a wrap. And to help you find your shade, Wrap Film Series 1080 comes in 40 plus head-turning films in carbon fiber, brushed metal, matte,high gloss & satin finishes.
According to 3M, Matte Black and Carbon fiber are the two most applied colours. And if you do not want the whole car to be wrapped, there is also the option of just doing up the roof or the bonnet. Think its time to look different? Head to the nearest 3M outlet in your city to give your car a head turning look!