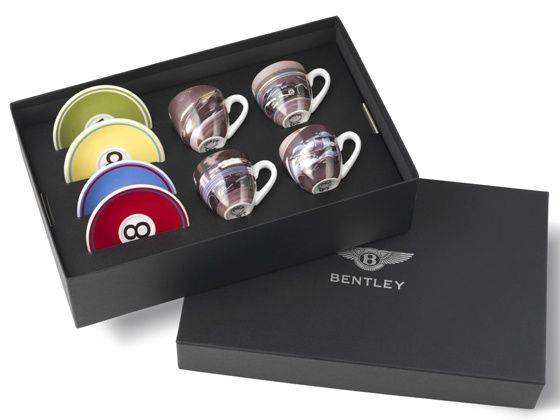 The Christmas season is almost here and in keeping with tradition, uber luxury car maker Bentley has taken the wraps off its latest range of presents that include the timeless Bentley boys and girls range as well as its new range of racing-inspired pieces to celebrate Bentley's 10th anniversary at Le Mans.
The new assortments of racing-inspired gifts reflect the British car maker's heritage of speed. The retro leather weekend bag complete with a set of espresso cups are decorated with adventurous imagery and saucers carrying the two winning car numbers, 7 and 8.
Another introduction is the Geoffrey Parker Games backgammon set which draws on 50 years of hand craftsmanship. From the hand-bound leather casing to the subtle Bentley wings on each knurled checker, absolutely no detail is overlooked. This bespoke set can be tailored to each and every individual household.
In the Bentley boys and girls range, young driving enthusiasts can get their hands on the 1:12 scale remote control model of the Bentley Continental Supersports.
"The spirit of Bentley can be captured and wrapped this Christmas. From the smallest, most thoughtful gifts to the majestic, unique statement pieces, the latest collection enables Bentley to take pride of place not only on the driveway but under the Christmas tree too," said Lindsay Weaver, Director of Licencing and Branded Goods, Bentley Motors.
The complete range of Bentley's Christmas gift collection can be viewed and purchased online from the Bentley Collection that can be accessed at www.shop.bentleymotors.com.
Also read: Breitling limited-edition Bentley Continental V8 watch launched at Geneva