1:18 Rolls Royce Phantom EWB Model Review
Jan 19, 2015
Views : 21808
---
We review the huge and imposing 1:18th scale Rolls Royce Phantom Extended Wheelbase Dragon Edition made by Kyosho to tell you why this is a must have car for every collector.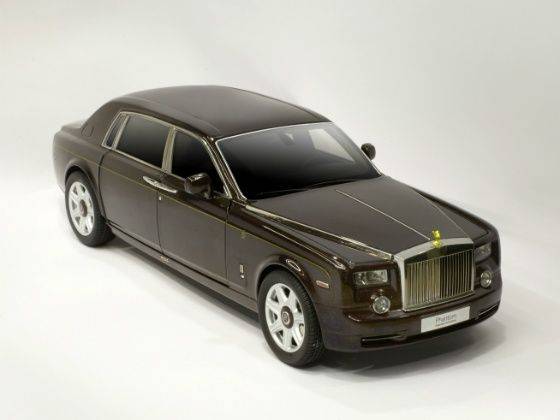 There are a few cars that make the automotive world stop and take notice. Launched 12 years ago in 2003, the Rolls Royce Phantom is without a doubt one such car. The Phantom, the final word in bespoke and hand crafted luxury has still to this day yet to be trumped by any other production car when it comes to sheer opulence. Which is why when Japanese modelmakers Kyosho decided to make a 1:18 scale model of the same, we were more than excited.
Although a normal black or silver version would have been impressive enough, Kyosho decided to go a step further and make the very limited edition Rolls Royce Phantom Extended Wheelbase Dragon Edition in 1:18 scale too. Seen here, painted in a deep metal flake burgundy is the same, limited to only 999 pieces worldwide.
The first thing that you notice about the model is its sheer dimension. With the real car being huge, there are no surprises about the size of the Kyosho rendition. From the get go, this Phantom is an exciting proposition, with its immaculately modelled grille and Spirit of Ecstasy mascot. Just like with the real car, Kyosho gives the option of two mascots, one finished in gold and when in traditional silver. Also just on the real car, the wheel centres with the Rolls Royce logos in them stay upright when the wheel spins.
The real detail though is in the interior. In the 1:18 Dragon Edition model, just like on the real car, the interior comes finished in a shade or red which has been repicated accurately by Kyosho. The car obviously gets the famous umbrellas that pop out from the doors and a felt lined carpet as is expected from a model of this calibre. The Phantom also gets adjustable front seats, an operational centre armrest both in the front and in the rear and working tray tables. All in all, the 1:18 Rolls Royce Phantom Extended Wheelbase Dragon Edition by Kyosho is a car that should not be given a miss by the serious collector. That said, if you are interested in one, they do cost a pretty penny at about Rs 13.5 thousand and are available at www.automania.co.in.