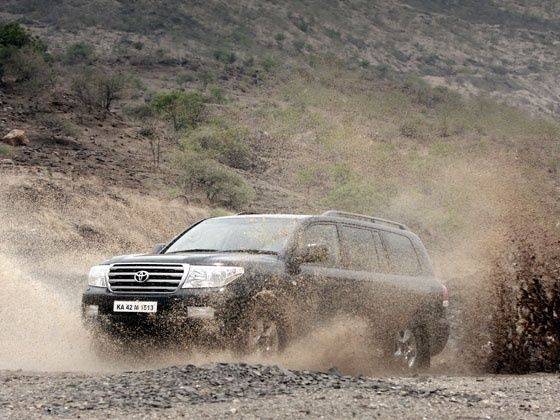 Preparation is half the battle
If you have planned some serious off-the-road action, the first thing you need is a vehicle that can handle such driving. Off-road tyres, snorkels, vehicle mounted winches, shovels are all key equipment. Don't forget to pack lots of food and water - off-roading can wear you body out rather quickly. But the cardinal rule - NEVER off-road alone. Always have some buddies with you and preferrably another car - in case yours gets stuck somewhere.
Out of sight, out of mind
Scouting is an essential part of off-roading. Everytime you are driving on a bit of off-road that you're unfamiliar with, just park the car and survey the area on foot. This becomes all the more essential on difficult terrain where one needs to check out what lies on the other side of say an upcoming ridge before attempting to cross it.
Up, up and away
Look for a bit of flat ground just before attempting to start climbing up so that you have some place to build up some momentum, or even to safely roll back in case you don't make it all the way up. Keep the car straight and even if you do need to steer, make sure your car never gets perpendicular to the slope.
Long way down
Look for a clean route down the hill, preferrably one with a bit of flat ground at the end to shed off speed on. Be gentle - never jam the brakes if you need to slow down and give minimum of steering inputs. Even if the descent looks easy, keep the car in gear and do not build up too much speed coming down.
Through hell and high water
Water crossings can be a lot of fun if done properly. If the crossing is unfamiliar, do a walk through the crossing if possible to find out where the water is the shallowest and that there are no big rocks which could damage the underbody. Keep a constant throttle and avoid going either too fast or too slow as both are a bad thing.