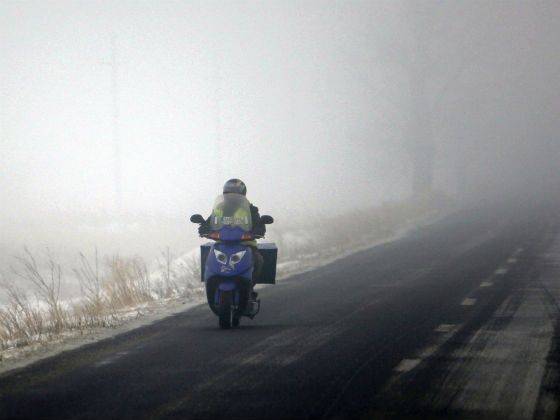 Fog is one of the most difficult situations a rider can encounter. Coupled with rain and darkness, fog takes on a highly lethal combination. Ideally, riding in fog should be avoided completely. Ideally, that is! In real-world circumstances, you may run into a fog midway into your journey and without prior warning. Here are a few tips to help you ride through fog safely.
Avoid: If you are planning a ride to the hills or know beforehand that you are going to face foggy conditions, simply resist the thought of riding.
Speed: If you've already begun your journey and ridden into foggy conditions, slow down to the minimum speed for better control during sudden braking. Also, avoid abrupt inputs to the brake or steering and use engine braking as much as you can.
Distance: Maintain adequate distance between you and the motorist in front to prevent collisions caused by abrupt braking by the driver ahead.
Make yourself visible: Wear riding jackets with reflective materials or bright coloured jackets to help other motorists spot you.
Guide line: Use the white line on the left hand side of the road as your reference and maintain a certain distance from it so if someone tries to overtake you from behind you have sufficient space for yourself.
Headlights: Always ride in fog with low beam. Many riders commit the mistake of using high-beam, because it causes flaring off of the water molecules and further reduces visibility. Before starting the ride, wipe the headlights using a cloth so the beam spread is long and clear.
Visor: Always clean your visor before you begin riding in fog. Also spray a defogging agent (sold online) on the visor so that accumulation of moisture doesn't hinder your vision.
Tank-up: Check whether you have adequate fuel for the journey. You may miss a fuel-pump due to the limited visibility and being stranded on the road can be unpleasant, especially if it's foggy.
Be alert: Check your mirrors periodically for fast approaching vehicles from behind and be ready to take evasive action if required.
Brake-lights: Gently tap your brake lights in frequent intervals so the motorist behind are alerted of your presence.
Emergency Stop: If forced to stop due to reduced visibility or a mechanical problem park your bike as far as you can from the road.