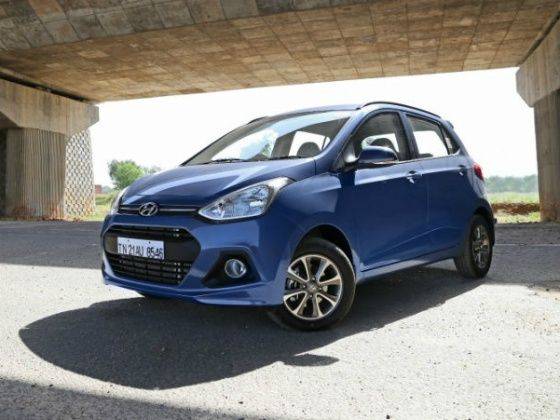 Hyundai cars in the recent past have become very likeable, especially in the Indian context. The Korean carmaker understands our tastes, needs and aspirations better than many Indian manufacturers and the Grand i10 is another prime example of them to hit that sweet spot.
The Grand i10 with its very dapper fluidic design definitely looks the part in the hatchback segment. The sweptback headlamps, large trapezoidal lower grille and swooping roof are worthy of the top step of the hatchback beauty contest. The neat horizontal waistline and well-designed tail-lamps round off the well sculpted Grand i10. The Grand i10 certainly looks more aspirational in the flesh than its competitors, and that's half the battle won.
What more does one need? But of course, a frugal diesel engine under the hood just can't be overlooked. Now in this segment the Grand i10 straddles in, there are very few diesel competitors, the aging Figo being the most potent one. But that didn't stop Hyundai from providing the Grand with the best diesel three-cylinder engine in its class that's refined and efficient. This mated with one of the nicest gearboxes around in the compact hatch segment make the Grand quite an effortless car to drive in the city. Hyundai has got the suspension set up just right too, not as soft as Hyundais we've known to be and not too stiff either, giving a very pliant ride in most conditions.
Another impressive attribute of the Grand i10 is the quality of materials used inside the car. We aren't surprised though, as the Korean carmaker has used good quality materials in the past here, as India is also an export hub for them. Making the interiors a very pleasant place to be in, are a host of equipments the Grand i10 comes with. It's a leaf out of the Hyundai car planning book most manufacturers are reading into.
The Grand i10 in 2013 may not have had a very stiff competition in the compact car segment but even if it did, the all-round package made a compelling case for the nippy hatchback. It looks smart, is light on the wallet, comes with a frugal diesel motor and is the best packaged Hyundai small car ever. The Grand i10 has increased our expectations from the small car segment, and that's why it's our Compact Car of the Year.