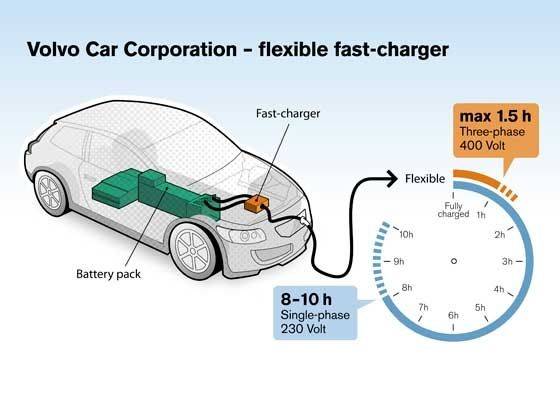 Electric cars aren't just promising alternate fuel prototypes anymore, but very functional and environment friendly vehicles operating in real world conditions today. As more and more nations open their eyes and minds to the possibility of such vehicles paving the way to the future of our sustainable mobility needs, news of Volvo's exemplary new fast-charging unit will most certainly put to rest what is better known as 'range anxiety' especially where electric cars are concerned.
The new 22 kW fast-charger developed by the Swedish car maker is the world's first charger that operated on a three-phase supply, and yet is small enough to be fitted in an electric car. Where an ordinary single-phase 230V household outlet takes a total of 8-10 hours (depending on the available current) to completely charge your battery operated vehicle, the new Volvo fast-charger can do it in 1.5 hours.
If you don't have even 90 minutes to spare, you could plug it in for just 30 minutes and give your car enough power drive a good 80 kilometres says Lennart Stegland, Vice President Electric Propulsion Systems, Volvo Car Corporation.
The new charger will be installed and evaluated in a number of Volvo C30 Electric cars and will offer the car owner two possible ways of keeping his car charged up and ready to go. He could 'top up' the battery pack on his car one or more times during the day.
The same low operating cost compared to a car with a conventional power train has always made electric cars good long term investments, but with the advent of such technologies significantly reducing charge times customers could look forward to spending lesser hours in a day powering up their vehicles and more on driving them around with 'zero emission' pride.