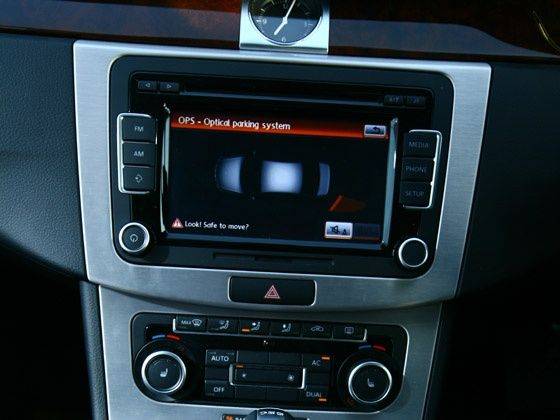 Park Assist System though a recent phenomenon in India, is expected to soon become a standard feature in most upper segment compact sedans and SUV's. The systems is basically aided by three critical components, which are the ultrasonic sensors, a rear view camera and an Intelligent Parking System that ultimately gauges and decides the angle of steering and movement to put your car in the right slot.
Parking Sensors

The first step in achieving the Park Assist function, automobiles using this function come with ultrasonic sensors that are fitted in the front, side and (sometimes) the rear of the vehicle. These ultrasonic sensors gauge the exact length and breadth of a parking slot as you drive past a parking zone, and informs you when you have passed a suitable parking space that is wide and long enough to fit the dimensions of your car.
Backup Camera

Once the car has found a suitable parking slot, all the driver is required is move forward and then bring the vehicle to a standstill. He then has to switch to reverse gear, and just let go of the steering wheel. The system will then take over the wheel and begin to self maneuver the car using its rear view camera to adjust the track overlay, which you can observe on the screen fitted on your cars entertainment console area.
Intelligent Park Assist System

A combination of the cars sensors and the back up camera allows the onboard computer to adjust the angle of traction and speed depending on the proximity of nearby vehicles, so as to maneuver your vehicle perfectly in order to make it fit into the limited parking space available. One the car has been brought into position, the Intelligent Park Assist System will inform the driver that the parking operation has been executed successfully, and that you are free to take over control or kill the engine and simply walk out.
Demonstration of Parking Assist Technology in the new Range Rover Evoque: